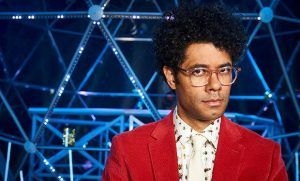 Fridays Sundays, 8pm,
Channel 4
No point giving Series 1 Block 3 a new post, so I'm bumping this one up instead.
(The post for the Celeb editions and the several hundred comments they generated can be found here).
And so we come to the year's main event, the civilian run of The Crystal Maze.
Merely two months ago, 22 years of excitement and hope, bolstered by two years of advertising by other people, broke down to "I mean, it's alright," and "I really think this should be better", now we meet the 15-episode civilian run with a sort of non-committal nod of the head and a disinterested "Oh, OK then."
We've already seen most of the games. We get that Richard Ayoade is hosting seemingly under the impression it's not very good. Can it turn things around in having fewer games to focus on the personalities of the contestants?
It's probably wise not to read too much into the overnights for this (although it will be difficult to spin "around a million" into a positive), but watch-out instead for how many it adds in +7 catch-up as a trend, where it had been adding a great deal.