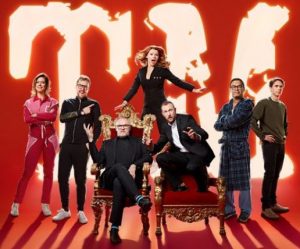 Wednesdays, 9pm,
Dave and UKTV Play
It's back! Five more comics put their wits and skills to the test in trying to complete ridiculous tasks under the watchful gaze of Greg Davies and Alex Horne.
Battling it out this series:
Lou Sanders
Iain Sterling
Sian Gibson
Paul Sinha
Joe Thomas
We don't know if UKTV are going to be doing their usual thing of putting up episodes a week in advance (except the final) which is just annoying anyway. Still, though.
Edit: It sounds like Dave won't be putting episodes up a week early this series, which I like because it doesn't split the audience. Also there's a new official website: taskmaster.tv.