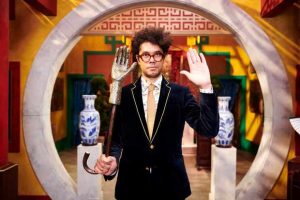 Fridays, 8pm,
Channel 4
I can't be bothered keeping track of what "series" it is, it's the third recording block anyway and we're getting six episodes now and seven later on.
Anyway we're getting 30 new games, a new Eastern zone (if Richard uses the phrase "culturally sensitive", take a drink) and a new MEGACRYSTAL worth 10 seconds in the Dome.
And it looks like they've doubled down on the audience baiting tone, with its archness and having Gemma Collins on the first episode and its irritatingly matey social media presence and trying desperately to go viral and having a game that's a bit like the planets one from series one, because you lack imagination and you like that sort of thing don't you Dave?
And I respect that, to keep doing the same thing in the face of severe audience decline isn't stupid it's clearly art. And that virtual room game looks good (even if, as has been pointed out, it's basically that game from Sub Zero I was involved with twenty-odd years ago).
Anyway, let us know what you think.