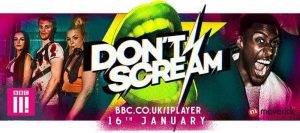 Thursday 16th Jan, from 8pm
BBC3 (online)
Yung Filly invites a team of three to try to earn £5,000 by doing tasks overnight in a shopping centre. Unfortunately, each time one of them screams £100 gets knocked off, and even more unfortunately the location has been rigged with a load of comedy scares. How much will they take home?
It reads like Five Nights At Freddies: The Live Action Gameshow, basically, and for now it's a one-off. One Night At Filly's.
We're very much positively disposed to this sort of thing and look forward to watching it. I bet they'll be questions as to "what constitutes a scream or involuntary noise," though. Anyway let us know what you think in the comments.