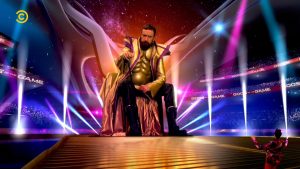 Thursdays, 8:30pm,
Comedy Central
Here's something we've been looking forward to for a while as it's from the people behind Bother's Bar favourite, the award winning Wild Things. And if it's anything like the team's previous work it will be highly silly with an incredible found soundtrack.
Bradley Wiggins and Tom Rosenthal challenge ordinary members of the public to duel against actual properly successful sportspeople (in the first episode: Sir Chris Hoy, Sam Quek and Max Whitlock, episode two Mo Farah, Michael Owen, Nicola Adams) with nothing but a headstart, with hilarious consequences presumably.
Sounds a bit like a more overtly comic take on (the already comic) International King of Sports. Episodes are only half an hour, let us know what you think in the comments.