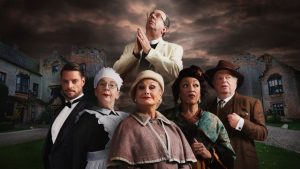 Friday/Saturday, 9pm
Five
Forgive us for the late post, it had completely slipped our minds.
Six celebrities (Su Pollard, Sheila Ferguson, the Rev Richard Coles, Keith Duffy, Angela Rippon and John Sergent and are dropped into a period murder mystery investigation and must use their wits to try and work out who the killer is.
We'll probably be all over this when we watch it (it's only two parts so shouldn't take long), but even if it's rubbish we kind of approve of the Koreanisation of TV entertainment, so that's good.
Any good? Let us know in the comments.