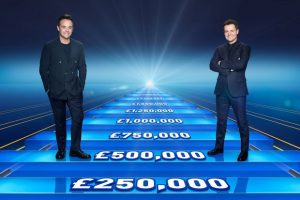 Saturdays, 8:30pm,
ITV
Well there's nothing like making a rod for your own back is there?
Ant and Dec offer to potentially bankrupt ITV (spoiler: they haven't bankrupted ITV) in the world's first limitless jackpot, provided you don't count any existing winner-stays-on shows, and does so in a method that if the adverts are anything to go by looks 'a bit maths'. To bank money, players must get answers to numerical questions bang on. They can walk away at any time, but if they ever give an answer that's over the correct one you leave with nothing. Also if you underguess by too much. How they climb the infinite money ladder is still unexplained, although it certainly looks like you're climbing for every number you're off, which would certainly be A Thing.
Something I think will go against it is that it won't take long for people to work out the difference between what's ACTUALLY being risked and what's perceived as the risk – you're risking £10,000, you haven't yet won the £1m the ladder is currently at. Also this quote from Dec in the Radio Times worries me a bit:
"We have had some big wins on this series, but I think when people see the show they'll go, 'I could do that for longer and be braver and go higher.' So I'm actually really looking forward to recording another series once people have seen it and got into it and decided what their strategies will be," Dec said.

Ant and Dec tease "unbearable" Limitless Win moment – Radio Times
Does rather suggest this first series isn't going to be throwing around the big money they've been promising.
ITV have gone big on the promotion of this, and it's on between The Masked Singer and The John Bishop Show so I probably wouldn't read too much into the ratings in the first week – if it hasn't done well there's something very wrong in the State of Denmark. After that we'll see. It might be absolutely brilliant. Let us know what you think in the comments.