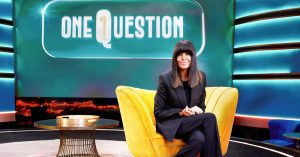 Fridays, 8pm,
Channel 4 (and all on All 4, apparently)
I am ridiculously excited about One Question. There's no time limit, no buzzers, no complicated rules. A sofa, a chat, just one question that could win our players £100k. Not only that, we give them the answer. Tricky part is we give them 19 wrong answers too. I've bought a new black sweater and the studio has a toasted sandwich maker. I can't wait.

Claudia Winkleman in a press release
When I first heard about this, I thought it sounded crap – a twenty-option multiple choice question where they'll spend the best part of an hour eliminating incorrect answers before landing on an answer which might earn them £100,000, like a crap quiz version of Deal or No Deal.
Anyway it turns out it might be slightly more interesting than that. The questions clearly aren't going to be open and shut cases and sound as though they might be a bit more lateral than "which of these is the exact height of Mount Everest in feet?" and we've also gathered that there are lifelines that can be deployed to knock out answers but lowering the prize money – no complicated rules indeed. Also the first episode features two couples, will it rollover?
So ironically a show called One Question leaves us with a lot of questions, the big ones being "will it be any good" and "will anybody actually watch it" to which my guesses are "I'm not convinced but will keep an open mind" and "at 8pm on a Friday on Channel 4, probably not but I'm sure the first ep will do reasonably."
Let us know what you think in the comments.