#sdb
#imbackingbrig
TWO DAYS. TWO DAYS and we can find out what's inside the envelopes, LIVE on Youtube. Click for a larger picture. It's like Christmas all over again.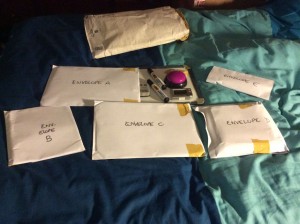 Remember YOU can come and help celebrate Bother's Bar's Tenth Birthday One Week Early by joining here LIVE for Schlag den Brig on Saturday from 8pm for hours and hours of LIVE entertainment. YOU will get the chance to influence one (and maybe more!) of the games. YOU HAVE REMOTE CONTROL OF MINE AND DAN'S FATES, BE KIND TO ME READERS, BE KIND. You might also want to keep a pen and some paper handy for games you can play along with, and you can tweet your results.
That's not the only thing happening on Bother's Bar's Super Saturday, there will be show discussion posts for Amazing Greys and The Guess List although I'll be watching them on catch-up. As should you!