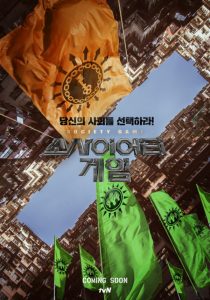 We're still deciding whether to give it a fully fledged page or not, but it sounds like a translation is incoming imminently, keep an eye on Bump's Twitter.
What we have done is read a synopsis on Wikipedia and well… it reminds me of Pirate Master more than anything. 22 contestants live on set for two weeks battling it out for a $150k prize. The contestants are split into two "societies", one democratic, one a dictatorship and they only come together for challenges. Each society has a leader who gets their own bedroom with special privileges. Winning a task wins money, $10k, which the leader can split as he sees fit. Losing means losing a member of the society, decided by the leader. The winning leader gets to put a loser on a blacklist, and if their name appears twice they're eliminated The democratic society votes for a new leader on a daily basis, the dictators keep their leader until they get overthrown. The final three on each side will battle it out for the big money in the finals.
We really hope it works! If you haven't been following this is a collaboration between CJ E&M, creators of amazing show The Genius and Endemol and sounds like stylistically it's similar if not in actual content.
I have opened up a new page for discussing this further, please direct discussion there.