I enjoy watching shows from around the world. Most of the time I'm happy for foreign countries to keep them. Occasionally, VERY occasionally, something comes along which makes me believe a British adaptation needs to happen, not dissimilar to when a couple come across a really nice house on Location Location Location.
What I am basically saying is I think this is a show that could be Ab. So. Lute. Ly. MASSIVE on ITV1 if they handled it right. And it's an Endemol show! Who could have predicted. It's basically the world's first modern music hall-em-up quiz. It's a fun idea, packed with music and comedy, and features a big money end game which is hardly ever won. And remember, I am hardly ever wrong. This show is on seven nights a week in Italy, and a weekly primetime version happened over the Summer of 2012 in Spain.
The game is by its very nature ephmerial so I've combined several shows together in this feature to cover all the bases. This feature is based on the show's second series. As of the time of writing you can watch the show ungeoblocked online.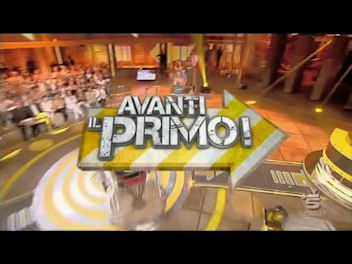 Avanti il Primo? What's that about then?
OK, this is to do with the odd way Italian television does business. Aware that shows tend to build an audience, Italian TV will call the first part of their shows something slightly different so it gets a seperate rating from the later part which can then claim to be highly rated. Machiavellian.
What does it mean? Roughly "first forward!". Avanti un Altro! roughly translates to "Next one forward!"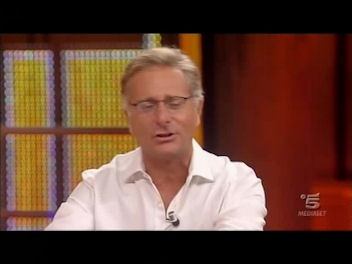 Here is our host, the brilliant Paolo Bonolis who also co-devised the show. He's been in Italian television for about twenty-five years, probably most famous for being the original host of the seminal Affari Tuoi, the Italian daily version of Deal or No Deal, which defined the format in most of Europe. In Italy, it sounds like the hosts get a much greater say in the direction of their shows.
The set and the audience. The audience will have their part to play. The background is quite sparse save for those moving arrows on translucent screens and a screen that splits into slats for the backdrop.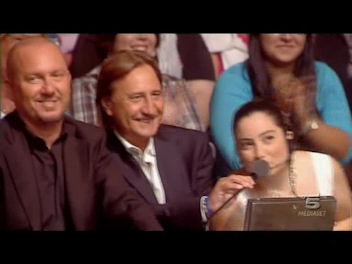 Three important people, the head question writers and judges Marco Salvati and Stefano Jurgens (both involved in Italian gameshows for a long time, and also both previous Bonolis collaborators) and "engineer Carla" although what she does is not specified. (Edit: She does a lot as it turns out! See comments)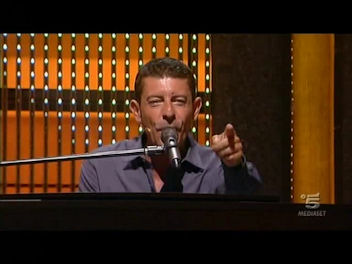 The most important sidekick to introduce is "Maestro Laurenti!" on the electric piano. Luca Laurenti is Bonolis' comedy partner of about twenty years standing. He opens most shows with a rendition of his song Ricordati Che Devi Morire – Remember You Must Die. On some episodes he's not at his piano and instead comes on in a swimsuit to Chariots of Fire, much to Bonolis' bemusement and upset, and then does a short sketch.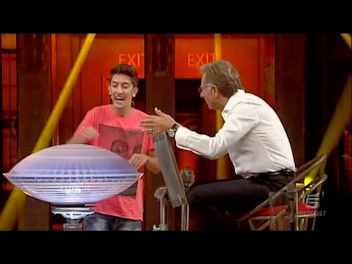 Finally we have the valet, a person plucked from the audience to chivvy the contestants around and get comically shouted at by Bonolis. The valet's first job is to lift the lid on the carousel of scrolls, which is done with smoke blast accompaniment.
OK we're all set. Avanti il Primo!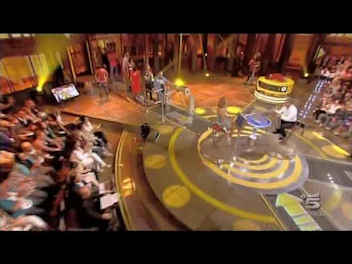 The first person in that queue gets to sit in the seat. Presumably everyone in the queue has drawn lots to determine their order – it is unlikely the people at the back will get to play.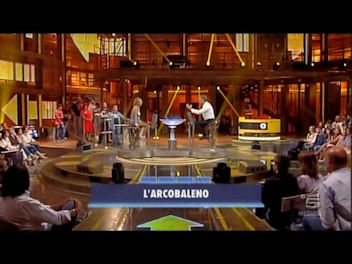 This contestant faces a standard round. About 60% of the rounds are standard, but you won't know what you are going to get until you sit in the seat. This is a quiz where anything could happen, and occasionally does.
In a standard round the contestant will face four questions on a category. The category could be anything at all and a few of them will come back regularly (such as "English Lesson" where the round is conducted entirely in English, and "Broccolini" where Bonolis will ask questions with cotton swabs in his mouth to imitate a Don Corleone style character – there are lots of ways to dress up a set of questions).
This round has been introduced with a burst of Somewhere Over the Rainbow so she is going to get four questions on rainbows.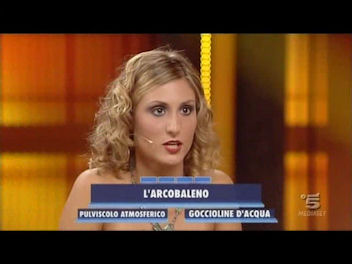 Each question is fifty-fifty. In the first series the entire question was put up on screen, this year the category stays up but the multiple choices come up also.
The rules are very simple: three out of four or straight out the door. After the first wrong answer Bonolis will often remark "Non può più sbagliare!" – roughly 'don't get another wrong!'
In the early stages of the show Bonolis will often mess about – usually by shouting their wrong answer back at them in the affirmative, or by adding "perfecto!" then telling them they were wrong. This is quite amusing.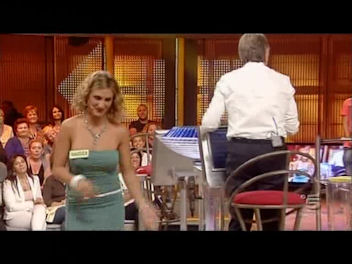 Unfortunately this contestant got two wrong, so she's gone. Avanti un Altro! Next one forward!
This contestant fares rather better. Bonolis' spins the carousel, the contestant uses their hand to slow it down and picks one of the scrolls (pidigozzo) in front of them. Each one contains either an amount of cash or something which may help or hinder them. The object is to accumulate as much cash as possible.
The initial make up of the carousel, from bad to good is this: 1x Avanti un Altro! (Immediate elimination. Bad.), 3x Le Iettatorre (The Jinx. Bad.) 5x La Pariglia (The Duel. This carries more weight the further into the show you are), 2x €1k, 5x each of €10k, 15k, 20k, 25k, 30k, 40k, 50k, 75k and 1x €150k.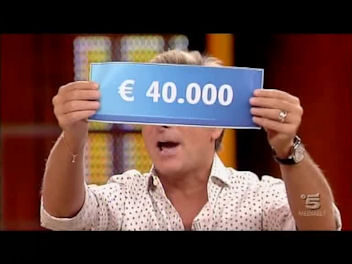 And it's a good pick! €40,000. The contestant now faces a choice: close their account and go and sit in the Champion's Chair or play on and try and accumulate more money. This is important because only the person who is sitting in the champion's chair having accumulated the most money will get the chance to win it at the end of the show. Until the end of the show, you are the target.
If you play on and lose the next round, you're out losing everything.
Of course if someone goes and sits in the chair early with a relatively small amount, there is a chance another contestant will beat the amount, decide to play on to solidify their position and then lose it all keeping you there. It's all part of the fun.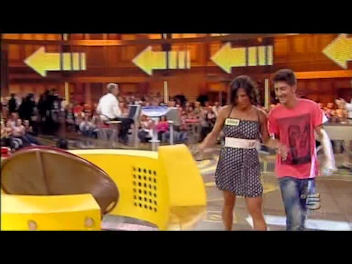 This woman has decided €50,000 is enough and she's going to sit in the champion's seat. The valet accompanies her there.
And that's the score to beat.
Of course, that accounts for about 60% of the show. A fun little quiz. But it's what happens in the other 40% of the rounds that keeps everyone on their toes…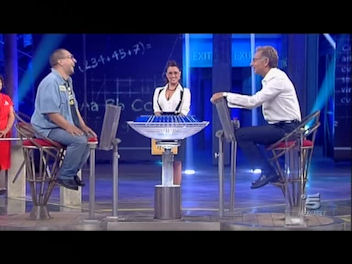 If the background slats are flat before a question, that usually means a Thing is about to Occur. This contestant faces a visit from the sexy substitute teacher who comes on to seventies-esque wakka-wakka guitar, and he will be asked a question on the sort of thing you learn at school – grammar in this instance. This question carries no multiple choice and you must get it right or you're out on your ear.
There is good news. If you get a question right from a guest, such as the substitute teacher, you have the option to swap your choice of scroll on the carousel for another one (unless your first pick is the Avanti! or the jinx).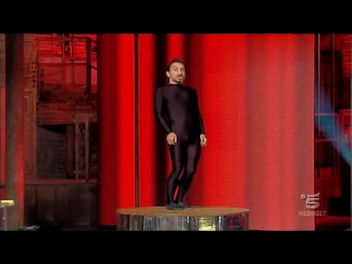 This is the mime artist, accompanied by accordion. He will mime something Bonolis will give a hint at. You have to work out what it is.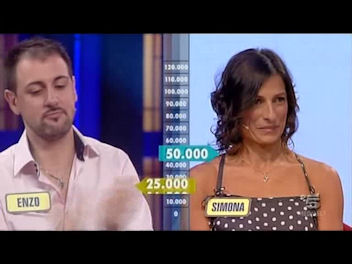 This graphic suggests this gentleman is doing OK but he's still got a little way to go. But he's about to get help!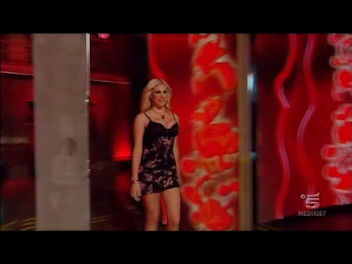 It's flirty Ms Bonus and her high pitched laugh!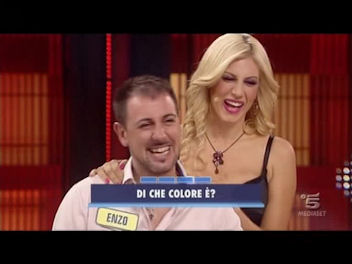 She will try and relax the contestant by massaging them as they set about the next set of questions. But of longer term gain, if they complete the round, whatever money (provided you pick money) is contained in the pidigozzo is doubled.
The bonus will normally come on about a third of the way itno the show and a few questions before the end.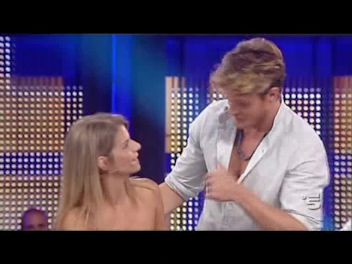 And ladies! There's a Mr Bonus too! His name is Daniel and he is Swedish American. He doesn't speak much Italian so Bonolis will usually address him in English which can lead to some comedy conversations. He's painted as a bit of a predator!
A regular gag is set up where the category is announced and Maestro Laurenti starts breaking out into song.
Bonolis will act very annoyed and will start appealing to the judges to shut him up.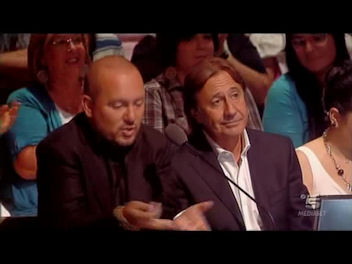 The judges will act like they don't understand it either but there's nothing they can do.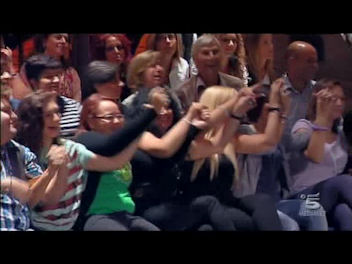 The audience, obviously, love it. The song will end. Bonolis will get annoyed with the audience, the quiz will continue.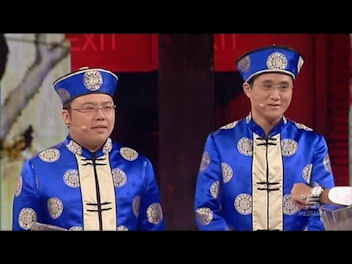 It's Sing and Song! Two Chinese men who will perform a famous song or a scene from a film in Chinese. The contestant must identify what it would be if it was in Italian.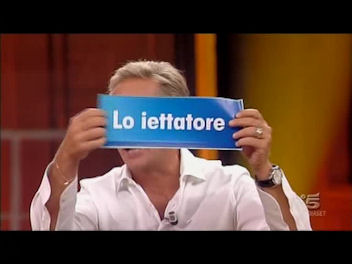 This contestant has been very unlucky, they've found Lo Iettatore. Not only is their money wiped out, but they must answer a question to stay in the game.
But it's not just a question from anybody, it's a question from… The Jinx, who walks on stage accomanpanied by a sort of funeral march. Booo! He carries a stick with what seems to be a golden owl on top of it and wears a coffin around his neck. A bad man to know. Bonolis asks him what the category of question is going to be. "Ah, music! That's not so bad. What specifically?" "DEATH." (Thunderclap)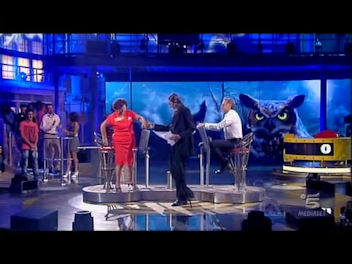 Unfortunately the contestant gets it wrong, so must accompany The Jinx off. He wishes the audience bad fortune on his way out.
Basically, Lo Iettatore is an amazing gameshow character creation.
The dance remix of Ricordante Che Devi Morire can only mean it's time for Luca Laurenti's question! He puts on his white gloves, slides down a fireman's pole and goes front of stage to dance with whoever Bonolis has bought up from the audience. Laurenti hopes for good looking women. He does not always get what he wants. But he does today!
His question will be about an odd story found in a newspaper. It will be a fifty-fifty guess provided he can stop laughing about it enough to get the question out!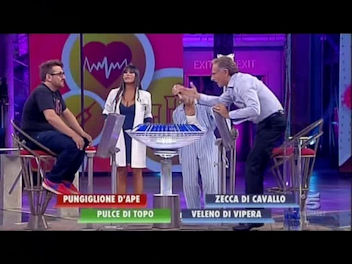 The sexy nurse and her patient (who walks on carrying a drip, and is miced up but never really says anything). Here the nurse will list the symptoms of what the patient is suffering from and offer four options as to what it wrong with him. You must correctly identify what's wrong with him.
The Mad German Scientist with his "is it buoyant?" game. Normally he gives the contestant an object and asks if they think it will float or not. This contestant is a bit unlucky as she has two objects to guess, and she must pick the correct combination out of the four possible to succeed.
And it turns out that as it happens, diet coke floats and full fat coke doesn't. Who knew?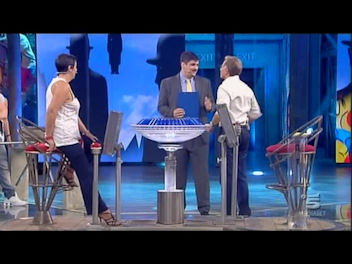 It's Adam Grapes, the shareholder from Southampton! Unlike Daniel (Mr Bonus), Mr Grapes speaks Italian very well. However they play up his Englishness to the hilt, so you get a lot of intriguing English/Italian conversation.
Anyway he's a statistician by trade and so he'll ask a question relating to national statistics.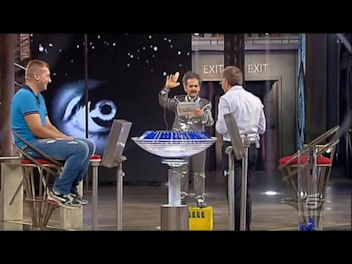 The final person you need to meet is The Alien who will come on shouting whatever.
He looks a little bit like Bobby Ball.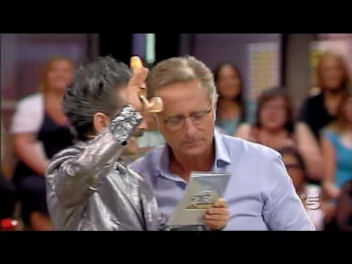 His stock in trade is not being able to read the answers in Italian very well, so Bonolis has to guide him. Somewhat grumpily.
Answer rightly or wrongly, the Alien will probably end up cuddling the contestant, crying, running round the studio, shouting a lot, getting manhandled off set by Bonolis or all of the above.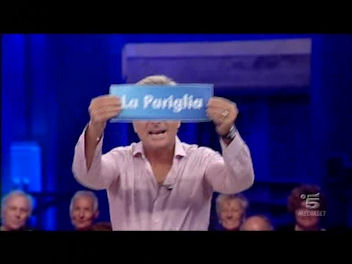 At the end of the show an alarm will go off telling the world that this is the last set of questions. The person in the chair MUST beat the champion's score after this pick or they're eliminated anyway. This is a great time to pick up La Pariglia. If you pick the duel your score rockets up to match the champion's score and then there will be a battle for the chair. If you pick the duel you are obliged to take it (unless you picked it as the first pick from a special guest) which early in the show might not be the strategy you'd go for but late in the show very definitely is. If nobody is in the chair, it's effectively a €0 scroll.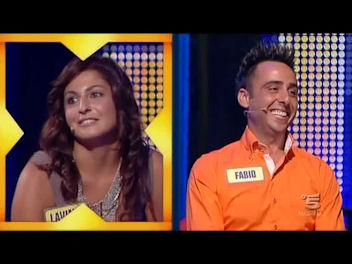 A (convoluted, by the sounds of it) question is read out. It's first on the buzzer. However the champion has an advantage – the challenger MUST get it right or they automatically lose the duel and go out the door. There is a ten second time limit to buzz in. So if nobody buzzes in, the champion is safe. The challenger has buzzed in here, unfortunately she gets the question wrong.
So Fabio is the evening's champion! He will now play for a base €100,000 plus the €150,000 he won in the quiz in what must be the world's most intense endgame.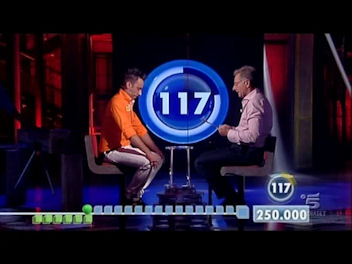 It's also brilliant. Here are the rules: Bonolis has a list of twenty-one 50/50 questions each one of the sort 'A or B, which [has a property relating to A or B]?' for (an easy) example: "Dog or cat, which one barks?"
Easy. Except you must fight your instincts and give the WRONG answer every time. You must also answer in a timely fashion, if you do not answer very promptly you have made a time error and you will be buzzed by the judge. Fabio is up to question six here. What happens if you make an an answer error or a time error?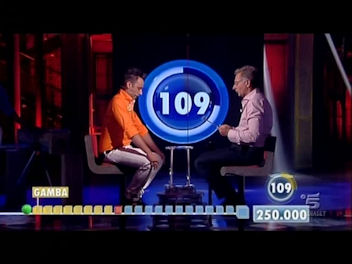 You must start the entire list all over again. Sisyphian indeed.
That sounds like an awful thing to happen, and it is an awful thing to happen. However Bonolis also holds the Guinness World Record for most words spoken in a minute and you're not obligated to wait for him to finish a question before blurting out an answer. To win all the money you have to get to the end of the entire list within 150 seconds. This is a very big ask, but it has been done several times. You CAN afford to be wrong, but what you can't afford is to have to iterate through a group of five or six questions, especially at the end of the run. Also timing out on a question seems to be the biggest killer. It's better to blurt something out and gain information than have to start the list again with no response prepared when you get back up there. But in the heat of the moment that's very easy to say!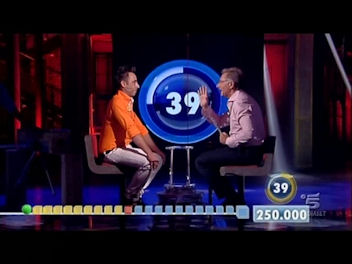 Bonolis can start and stop the clock by hitting a big red button to his right. Frequently he'll stop the game if he feels the contestant needs a pep talk. This will often happen if they stuff up around the 40-50 seconds to go mark where he can point out that it's still possible to do.
This game has a brilliant musical bed by the way, etherial but subtley building. Combined with the speed it's a little bit mesmerizing.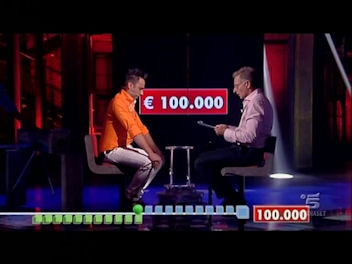 If time runs out then all is not yet lost. The money they won in the main game earlier is wiped away, but they can still save the base €100,000. It will tick down at €1k a second (so effectively they have 100 seconds left to finish). If they run out of money they lose the game and leave with nothing.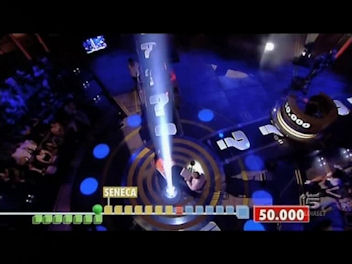 The "from the top" list quiz has been an Italian gameshow staple for about twenty years. However this is the first one that's seemed to realise that if you stuff up late in the game then you may as well not bother as you've got no chance.
This series, when the money reaches €50k (so you have 50 seconds left) the freeze ray activates, and a big laser beam shoots into the sky.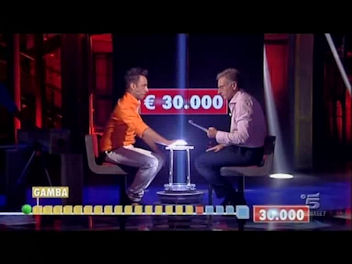 You place your hand over the beam and the clock stops and the money freezes (sometimes people are so into the game Bonolis has to pick up their hand and put it over the beam for them). You get one final attempt to run the full list from the top. Win and the money is yours.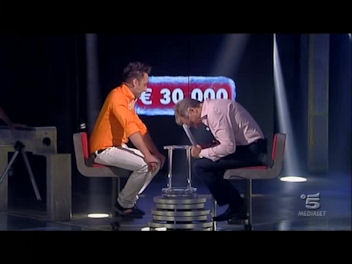 This guy didn't win. Most don't win. It's beaten about 10% of the time. Only a handful of people win the jackpot. But gosh, it's exciting when they do!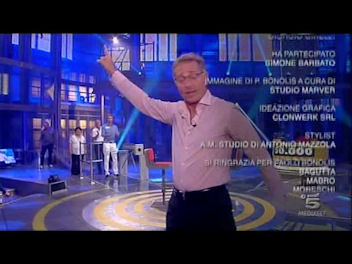 And the show ends on a dance move, which may be an attempt to trick the sound guy, I'm not sure.
2015 Edit: I do think it's worth adding the new rules that have been added since we wrote this:
Il Fato Benevello – The Good Fairy. If they pick this they face a question which will take their score immediately to €300,000. If they answer incorrectly they carry on with the next round without adding anything to the total.
Cambio – Trade/swap. If this is selected the contestant must pick someone from the audience to answer the next set of questions for them. They can't help.
Endgame changes – in the 2015/16 season the contestant no longer has to respond within a judged time limit, but the freeze light comes on at €30k instead of €50k. During the final run there is a ten second limit to answer each question.