February 2007
27th February 2007
The Clipton Factor: Everybody's Equal
It's midweek, shall we have a clip?
Recently on 1 vs 100 in the US they had a "last man standing" mob special, where the 100 mob members were whittled down to one who won $250,000. One wrong answer and you were out.
Here's eight minutes of Chris Tarrant doing that almost twenty years ago.
His finest hour, and no mistake.
26th February 2007
Does this mean we can take off the ridiculous subtitle now?
Well Deal or No Deal won't be winning the Royal Television Society Daytime Show Of The Year this time round as it doesn't have a nomination, the three nominations going to The New Paul O' Grady Show, This Morning and Through Hell and High Water. In fact gameshows are completely ignored except for a token nod to I'm a Celeb and How Do You Solve a Problem Like Maria? in the entertainment category. Oh and Dragon's' Den in Features and Factual Entertainment.
Here are the rest of the nominations, it "happens" on March 13th.
25th February 2007
"Who's camp? Oh, he'll do."
We were reading "quality" Sunday paper The Star on Sunday this afternoon (we were bored at the launderette, it was there) where we came across the hilarious news that TV's Alan Carr from The Friday Night Rubbish (satirical title) has been tapped up to host a revival of The Generation Game.
That's sure to be good!
24th February 2007
It's Fort Boyard Friday! On Saturday!
Right, this test is called "Casse-tête," or "Headache". In it, the player must solve one of those linked metal puzzle things by unattaching the hoop with the key on to get the key out of the room, but to make it a bit more interesting they get put off by various things happening, we won't spoil it for you, especially the end. The clip comes from 1995, and we've left some footage in either side to show off some of the presentation from the year.
We apologize for the poor picture quality in this one.
Next week! Another game they retired too early.
And don't forget! It's the final of The Search tonight!
23rd February 2007
Bother's Bar Quiz Scam SCANDAL
Leaked e-mails have suggested that people who have been entering Bother's Bar's popular Happy Hour competition to win a Dale's Supermarket Sweep sweatshirt may have been wasting their time as anyone who filled in the form after Tuesday won't have actually been entered into the competition.
"I am absolutely F**KING LIVID," said Brig Bother, proprietor of critically acclaimed webpage Bother's Bar, "and so is my wife. We knew nothing about this until late on Friday evening - we are very shocked and also angry on your behalf. We're very sorry."
Interest in how fair the competition was occured after Mr Bother remarked how few entries he got in comparison to normal competitions, a check this evening found that the suppliers, Bravenet were at fault. Mr Bother remarked that he's moved to Allforms now, who seem much nicer.
Contestants who have entered but don't think their answer will have registered are invited to enter again, and can also get a refund on their entry fee from ICSTIS by calling 0800 666 805 (cost: 50p a minute).
Real Life briefly intrudes on Bother's Bar
Basically, weekend features are going to be sparse for the next several weeks because... I'm moving house! In real life! Yes it really is that exciting. There might even be a few days where they'll be no updates at all because I'm waiting for the cable guy to install a new connection. So if it goes quiet for a bit it's not because I hate you, not primarily at any rate.
We'll be keeping up with our exciting Youtube-age for the moment though with a clip from Fort Boyard popping up very late this evening or tomorrow afternoon and ooh, the usual stuff that comes to mind at any point.
21st February 2007
The Clipton Factor: Russian Roulette UK
It's been pointed out that Gunnar Wetterberg, or someone purporting to be him, the creator of the Russian Roulette format and producer of the US version has uploaded clips and episodes of his magnum opus on to YouTube. These are, frankly, well worth a watch. Some of them have a bloke from Lost, look. The US show struck a brilliant and hugely entertaining balance between knowledge and luck, something which seems to have worked with varying degrees of success around the world.
Of course, in 2002 we had a go with Rhona Cameron, fresh from the first series of I'm a Celebrity, hosting. In all three episodes saw the light of day, a pilot and two "celebrity specials" although the first one had celebrities in it as well. Here, to jog your memory if you're a Brit or to look at in grim fascination if you're one of our international readers, is a ten minute precis of that pilot episode.
(Note: this might take a while to process so keep checking back)
The only real difference between the pilot and the two shows that were filmed later was in the head to head, where the contestants would stand at opposite ends of the stage on a trapdoor and answer the same multiple choice question. A wrong answer meant playing Russian Roulette with three lights, so there was a 50/50 chance of dropping, but if both contestants got the question wrong, one would be guaranteed to stay.
There was talk of making the show but with having people in hated jobs playing like tax inspectors, falling into large vats of gunge. Of course, it never actually made it past the three episodes and that's because once you're over the novelty of watching people fall through holes, what else do you have here? Punters, you have really very little.
I grant you the theme was quite good though.
20th February 2007
Masterchef Goes Large...
By far the most amusing thing about Masterchef Goes Large (which we've never really watched that closely before) is the hilarious and stilted judge's cogitation bits where from the conversation you'd assume that both the judges (John Torode and Gregg Wallace) aren't actually in the same room and they've intercut it all together.
Seriously, watch out for this tomorrow.
In other news, I'm just the most sharingest man ever. I think I've found the version of Handel's Sarabande (thanks Simon) used in The Search off of a deleted compilation called Classic Ads, as pointed out, it had been used by Levi's.
And provided you don't mind it being in .wmv (because we're drunk and want to go to bed frankly), I'm going to naughtily share it with you. I think this is the same one, but as previously mentioned I'm a bit drunk.
19th February 2007
We've had a request!
It's a request for clips from rubbish US day-glo reversioning pilot of Takeshi's Castle, Storm the Castle from 1993.
Well! There's not much interesting to write about at the moment so here you go:
And here's a feature we wrote on it years ago.
16th February 2007
It's Fort Boyard Friday!
Here's a clip from a nght episode from 1992. It begins with a riddle from Pere Fouras, played by Yann le Gac, a role he's been playing for fifteen years now apart from a one year break in 2002. Then follows the first Adventure: Vol d'Icare - The Flight of Icarus, a purely physical game (with height involved) but quite nice all the same. It was only played for three years but we reckon it deserved a few more. It became the only game on Fort Boyard where the principal male host stayed and watched and gave time checks by the time it was retired in 1994, and, barring a few episodes from the first series in 1990 whilst they experimented with the set-up, to this day this happens with no other challenge.
Next time: a hilarious "when the set goes wrong" moment.
15th February 2007
We had plans to upload an exciting clip for you this evening from an episode of Win Lose or Draw, but our copy of Nero is playing up. We'll try and get it sorted for the weekend in lieu of a weekend feature, which we don't have time to do. PLUS! Another exciting Fort Boyard related clip. Hold on to your hats!
Whilst you're doing that, you can have a new comment box.
14th February 2007
This is, we promise, the last Supermarket Sweep thing we'll mention for a while, but we found this on YouTube...
It is, of course, the legendary "Will You Dance With Me?" by The Bar-Codes featuring Alison Brown, which cracked the Top 72 on the 19th December 1994.
13th February 2007
Is this really what £87 worth of shopping looks like?
We've finally got round to watching the first episode of Dale's All New Supermarket Sweepathon All Star Special Week. As you may remember, we went to see an episode being filmed last month. These celebrity specials were apparently filmed during the show's final week of filming and are going out first.
So what have we learned?
That no-one should be shopping in Dale's Supermarket if they're on a tight budget. They can't be selling DVDs for £25 a pop, can they? Then we appear to have some custard creams, two bottles of squash and some sawdust.
Surprisingly, the market looks about the same size on television than it does in real life, quite small.
They've sorted the catchphrase out.
Gary King from Fun House is the new Bobby Bagg, but there's really no need to commentate over the Super Sweep.
Otherwise it was quite good fun yes.
Don't forget, you can look as fashionable as Vanessa Feltz and Linda Robson by taking part in the new Happy Hour competition!
12th February 2007
Have you ever wanted a Supermarket Sweep sweatshirt?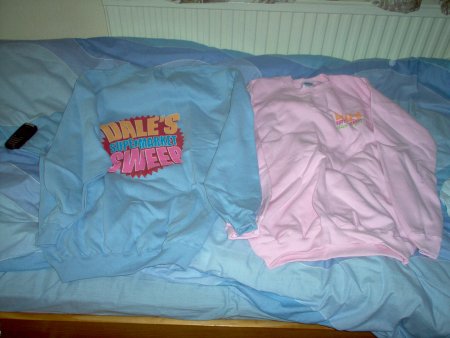 Bother's Bar is THE ONLY place that gives you a chance to live the dream. Clicky!
11th February 2007
Free advertising! It's come to our attention that Little Timmy Halbert has got a CD out. Normally we wouldn't give his type the time of day because he went to a posh school, but seeing as he did this tremendous remix of of the Countdown theme for us (and go on, here's the clock) for the amazing Bother's Bar Podcast you'll never get to listen to we'll let it go this once. Also: hurry up, because I move house in a few weeks.
10th February 2007
Our weekend feature will be up later, we're actually rejigging our Deal Around the World page so it doesn't use up quite so much bandwidth in one go.
Edit: Done. The Italian and German versions are now up.
And now I want a day off, so the Supermarket Sweep competition has been deferred until Monday. Can you stand the excitement?
9th February 2007
We don't want to be a sort of place that fills its pages with endless clips from YouTube, but allow us the novelty for the moment.
One of the things we'd quite like to do is show you interesting clips from Fort Boyard - our specialist subject, if you like. Here's a clip from the Swedish version, Fangarna pa Fortet, dating from 1994. Hosted by none other than Gunde Svan and Kayo.
It's the Anagram Game. The room is split into two by a caged door which shuts and locks behind you when you get in. Inside the room is the treasure room key (the object), and six or seven other keys, each with a letter on them, which when rearranged spell out a word. You then put these keys in the cage's locks in the spelt out order from top to bottom, escape the cage and leave the room before the time runs out. Easy!
Proper geekage, yo
Yeah, we're just like that Popbitch, do you remember one of the comments we made about Beauty and the Geek UK is that the geeks weren't actually all that geeky?
Well, a very good friend met Will (of snogging Christine Hamilton fame) and has reported that yes, actually he comes across as being actually quite geeky indeed. Skype was involved, that's all we're saying.
So there we are. If you've spotted any of the geeks from Beauty and the Geek in real life being A Bit Geeky, do write in to the normal address.
Tomorrow we're updating Deal Around the World with Affari Tuoi and the German version. That will be exciting for you, won't it?
8th February 2007
Yeah, For The Rest of Your Life (with Nicky Campbell!) and Golden Balls are getting 40 daytime episodes each. But they're really boring, so here's something quite interesting, my first YouTube contribution!
This is Bob Mills taking us through a challenge on You Bet! on legendary late night nineties clip show In Bed With Medinner. Enjoy.
There will be a lot more of This Sort of Thing in the months to come, hopefully.
6th February 2007
That new Alla Tu set in full
Euros Euros doobie do!
Buzz: The Mega Quiz
We know we've got some Buzz fans reading, so you might be interested to see these screens of the new edition of the PS2 game starring Jason Donovan coming out in the Spring on the Eurogamer site.
Buzz: The Sports Quiz had some quite interesting round ideas in it, and was presented well, but unfortunately was let down by having loads of questions about sport in it, something The Mega Quiz looks to rectify. Good-oh. Also it looks like they're relying far less on surprisingly-difficult-to-make-out picture questions than they did with The Big Quiz, which is something else we approve of.
Also! Dale's Supermarket Sweep may well be starting next week, so this weekend we'll be launching our latest Happy Hour competition to WIN a Supermarket Sweep sweatshirt! These money-can't-buy prizes come in your either blue (large) or pink (medium) and I'm keeping whichever one doesn't get won (i.e. I bought two and want one). How exciting!
4th February 2007
The page that wouldn't be possible without broadband...
We've updated Deal Around the World with A Prendre ou a Laisser and Alla Tu!. More next week.
1st February 2007
Yes that's one way to help a show build an audience isn't it?
Channel 4 have decided on a new "interactive reality experience" for February entitled The Search where viewers must solve a series of cryptic clues based on famous historical figures in order to work out what time The Search is actually going to be on television on any given week.
Here is an open letter to Jamie Theakston:
"Dear Jamie,
The Search is actually really very good and quite subtle and clever and beautiful, and feedback on the show has actually been largely positive. It's loads better than Treasure Hunters and a bit better than Codex, but don't tell David Bodycombe I said that because he'll never speak to me again. It's a real shame Channel 4 don't seem to want it to have a chance of succeeding, by not putting it in the same timeslot for more than two weeks in a row.
Although since you've now got the highest rated breakfast radio show in London, I suspect you will ultimately get over it.
But we hope one day you'll make another series of Beg, Borrow or Steal because you were quite good at that, and in Rock Profiles before Lucas and Walliams forgot how to be funny. And on The O Zone. But not The Priory, obviously.
Bye!
Love
Brig xx"