Deal or No Deal: The Official Behind the Scenes Guide, with Noel Edmonds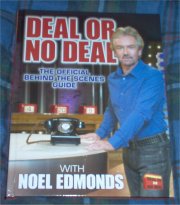 Authors: Noel Edmonds, Charlotte Edmonds, Jane Phillimore, Richard Hague, Glenn Hugill
Publisher: Ebury Press
Pages: 160
Price: £14.99 Hardback RRP
The blurb:
"This book will guide you through the highlights, the shocks and the frankly ridiculous momnets of season one, giving you exclusive behind-the-scenes access. The nation has been addicted to following the cunning game play and nail-biting drama. I hope you enjoy reading about these experiences as much as I love being part of them." NOEL EDMONDS
With never seen before photographs, interviews with the big winners and the big losers (the 1p club!), an exclusive interview with The Banker and details of every game in season one, this book is a must for all Deal or No Deal addicts.
Is it good?
Well, for your £14.99 (which is an OUTRAGEOUS price if I'm being honest) is a long introduction by Noel (detailing lots of things, like why he originally turned down the job, where the idea for writing on his hand comes from and so on), a day in the life of Deal (featuring mini-interviews with the production crew. With cartoon portraits!), an interview with The Banker (who, I deduce, is a Young Sherlock Holmes fan) and a day in the life of a contestant, as told by several contestants. The bulk of the book though lies in the second half, where it runs though all 234 season one games in capsule form, with double page spreads given to those who won £50k+ and members of the 1p club (featuring an interview and Banker and Noel assessments), and occasional single page interviews with other winners, enquiring how their game went and what they've done with the money. The capsule reviews are punctuated with photographs and statistical facts, although unfortunately many of these are the same things but with the words in a slightly different order. At the back there is a DoND Dictionary, and a list of some of Noel's catchphrases.
The book, in the main, is written in a likably irreverent style. The question is... how badly do you want a book half full of results?
On the plus side, the book is well made and feels pleasing to hold.
Buy this from Amazon and make Brig a Deal he can't refuse!