Johnny and Denise's
Passport to Paradise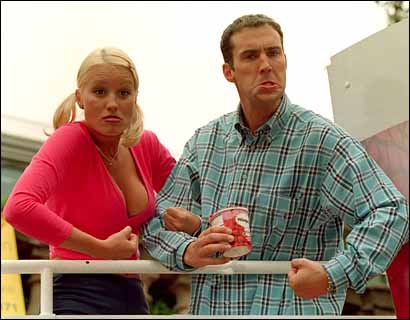 Years and years and years and years ago, there was a small Channel 4 breakfast show called The Big Breakfast which was hugely popular with its presenting partnership of Chris Evans and Gaby Roslin. Chris Evans went on to host the genre defining Don't Forget Your Toothbrush which took traditional Saturday evening light entertainment fare of games, music, audience participation and comedy and grooved it up for a post watershed audience. This was hugely popular, and Evans got so many offers for his production company to make things that he left The Big Breakfast to pursue his other interests. Tellingly however, he has never been as successful as he was during those Breakfast/Toothbrush days.
Fast forward to a couple of years later. Londoner Johnny Vaughan was presenting a popular Channel 4 film review show Moviewatch when The Big Breakfast needed a male host to fill in for a week and they let Johnny have a go. We can't remember who the female co-host was at the time, but he was very good at it. Fast forward to several relaunches later, and The Big Brekkie was in heaps of trouble. Presenter line-ups never lasted, and methods of making the show look and feel different were all dropped after a couple of weeks in favour of the "hosts chatting in front of the patio doors" of tradition. But one find was cheeky failed popstar, singer and rent-a-gob Denise Van Outen who began her Brekkie career in the weather/travel copter and went on to "do" the phone room. One day, someone had the brilliant idea of putting Vaughan and Outen together to host the show and it was the most successful pair in years, thanks in part to chemistry, banter, innuendo and spontenouety..
But that finished several years ago. Van Outen is now a successful musical actress (via sub-par Don't Forget Your Condom Something For The Weekend) and Vaughan now runs the Capital FM Breakfast show, inherited from Chris Tarrant, the biggest breakfast show in Britain (by way of the awful BBC2 sitcom 'Orrible, a nightly BBC3 chatshow watched by about 100,000 viewers a night, Live at Johnny's - essentially The Big Breakfast with Johnny and Lauren Laverne which although was quite good, was put on opposite Eastenders). Like Chris Evans then, Vaughan hasn't really done anything that's set the world alight since leaving breakfast slots.
So! We're in the fourth paragraph now. Why was any of that important? Well the BBC wanted to do a Saturday night light entertainment show and who better to host it than to reunite breakfast's golden pairing of Johnny and Denise? The BBC has been let down on Saturday evenings ever since Noel's House Party was past its peak, whilst in recent years ITV have had Popstars, Pop Idol and Ant and Dec's Saturday Night Takeaway and this is their chance to have a pop back, by doing a show that's a bit like Ant and Dec's Saturday Night Takeaway but not as good.
The set's alright. It's as though they've taken Richard Bacon's flat from Rent Free, added some large flat screens and painted the rest of it orange. It's a large set and it's got a large audience.
J and D come on singing their theme tune. Van Outen is a professional singer, Vaughan is not, and to cement this Van Outen is going to be singing a showtune every week and there's a running gag about how it was going to be a duet with Vaughan but it turns out that actually for one reason or another it's only going to be Outen.
The first item is a game called "Face Fits", where four people who think they look like someone famous come on stage whilst J, D and the audience all try and work out who they look like. If this was The Big Breakfast, this would be a short feature, possibly daily and just involving photos, that would last about two minutes tops. Here it feels as though it lasts about ten minutes. At the end there's an audience vote (or rather some people in the front of the audience can vote) to decide the winner who wins a "fabulous" bendy trophy. This feature would have worked fine without the game element I think, to be honest.
Next! Something which involves a bit of cleverness which Live at Johnny's borrowed. People who have camera mobile phones or a digital camera are challenged to do something creative (in the opening episode, you had to come up with a new hat) and send it in. Whoever sent in the best one at the end of the show won a lovely portable DVD player. At various points during the show they'd travel to a board and have a look at some of the ones that have been sent in so far. They'd touch the one of the photos on the screen, say "expand!" and do a silly hand movement (you mean it's not really touch screen technology? Oh man!).
Next was the set-up to the evening's main game (if you like). A man in the audience thought that his girlfriend was at a hen night but oh ho! it turns out that she's actually chatting with the footballer Ian Wright in Portugal and later on in the show he's going to get a chance to go and join her. This bit (the set up, let's not forget, and a set up that's been done before in It's Beadle! in the mid eighties for example, and we like that example because it's really obscure) felt like it went on for years.
In between skits we ought to point out there are pre-recorded comedy bits with Outen and Vaughan pretending to be fat working class people sitting on a sofa.
Next comes the obligatory Outside Broadcast bit. If you recognise anybody at a special outside concert you should ring them up because you might win a share of £2000. The person watching the telly had to communicate instructions to the people at the concert (which first involved doing something silly like hopping on the spot, the joke of course being that nobody else would be doing it but as more people get phoned up more people understand) and then racing to a phone box with a direct line to the studio. Denise asks the person in the phone box a question and if they get it correct they win. Hurrah!
Now it's the time of the big showtune that's been trailed throughout the show. But oh! there's a twist. It turns out some of the backing dancers are all people from the life of one person in the audience. Will she recognize any of them? WHAT IS GOING TO HAPPEN? There's a handy camera pointing at this person's face throughout to see if there will be a reaction, although in the first episode, with the exception of her Dad right at the end, and possibly the mate of her boyfriend, they were pretty obscure. It turns out though that if she could work out who they were, with a bit of guidance in the right direction, she'd win some prizes. This, actually, is dull.
And so finally we get on to tonight's main event, will that bloke from earlier win a Passport to Paradise and join his girlfriend? Well to win he'll have to play a game that's basically three fifths of Light Your Lemon from Don't Forget Your Toothbrush (which in a show that's a bit like Don't Forget Your Toothbrush but only about three fifths as good is hilariously ironic, except I'd say that's being a bit generous, but still). Bloke has to answer five 50/50 questions predicting what his girlfriend has been doing since she's been on holiday whilst J and D play devil's advocate and the audience do their best to help by shouting a lot. If he gets three out of five correct, which inevitably they will, then they get to go on holiday. Hurrah! Again.
We so want to really like this show because we've always liked Johnny and Denise, and whilst there are hints of the old team working well together there's rather too much structure to the show to let them do what what they did best. The show seems too slick and too rigid. It doesn't seem quite right watching them in front of a large studio audience, despite Outen being a West End star.
Ultimately, the features are currently too long, or feel like they're on for too long, or they're not particularly interesting or all of the above. It's certainly no Ant and Dec.
However, we've onyl seen one episode. If it gets better as the run progresses we might return to this review. We're not holding our breath though.