Perseverance
ITV have been returning to quizzes to fill its daytime slots of late (since demographically they appeal to young mothers apparently, and are legendarily cheap to make). The latest one puts a moderately interesting twist to the more traditional question and answer format.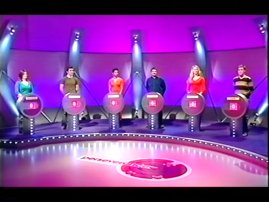 In the beginning there are six. Host Andrew Castle goes round firing off multiple questions at them, four each. Each question has four answers, and each contestant has two attempts at finding the right one, scoring two points if they get it straight off the bat, one point on the rebound and nothing for missing twice. At the end of this round, the lowest two scoring competitors leave.
The scores are zeroed and round two sees the same 24 questions from the previous round shuffled and re-asked to the four remaining players - some may get a question they had in round one. A correct answer here (bearing in mind that keen listeners and memorisers should already know the answers or at least be able to knock out two of the wrong choices) scores a point, although there is only one attempt at each question. The lowest scorer is eliminated.
Round three sees the same 24 questions being asked again (hence Perseverance)this time on the buzzer without multiple choices. Right answers score one point, incorrect answers wipe out their entire score. Of course, in theory you should know every answer by now so it becomes a race to work out which question is being asked and buzz in accordingly - we approve of shows where people are prepared to buzz in after just a few words. Obviously if you're really far ahead you don't want to blow everything by buzzing in on a later question and getting it wrong. Lowest score is eliminated.
Then there's the obligatory viewers text question, which to its credit appears a cut above other text in competitions in terms of difficulty. Unless the one we've seen was really easy and we're just being really thick.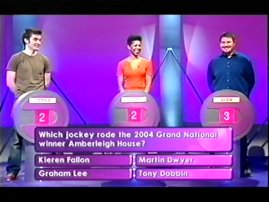 Unbelieveably, the two remaining players get a brand new set of 24 questions for the head to head, split into six different categories which they get to pick from alternately. Again they get two chances to answer each question scoring two or one points, but missing twice wipes your score out. The winner of this round goes through to the final where those same 24 questions are asked without multiple choice in the category order of their choice - £500 for a correct answer, money wiped out for a wrong 'un, don't get the last question wrong before your 90 second time limit expires, obviously.
And it all shifts at quite a pace. A really, really fast pace, there's 120 questions getting asked in each episode (well actually it's only 48 but still), and we can't think of another half hour show which crams so much stuff in. It looks as if it's on quite a tight turnaround as well, seeing as that there are really very obvious edit points between questions where something has been cut.
We should be getting really upset about Lastquestionwrongitis, but to be honest it seems to have become such a common idea to use that we just can't find ourselves getting worked up over it. What may kill the show for many people will be the idea of repeating the same questions over and over, in the short term it's surprisingly not as bas as it sounds, whether this will affect in the longer term remains to be seen.
It's quite a nice, workmanlike show for an ITV early-afternoon slot.