The Vault
Readers, this show annoys me.
It annoys me because I quite enjoy it despite it's rather gaping faults which should kill it really.
It annoys me because I enjoy it despite the fact that Melanie Sykes only ever reaches "compentant" in the hosting stakes.
It annoys me because I enjoy it and yet I can't think of a proper way to complete this natural sounding threesome. But never mind that.
The Vault is based on an Israeli format. It's not very often you hear that, is it? In it, people who have phoned up during the week battle it out in a game of haggling and knowledge in order to get a crack at The Vault itself and the (£100,000x(amount of weeks it hasn't been won +1) ) prize held within.
Each player (seven in series one, eight in series two and nine in series three) begins by guessing the "vault combination" chosen by the producer and the 3, 4 or 5 players (in this latest series) who are closest (apparently first by amount of digits correct and then on standard deviation - your hint is to guess at "5555" then) will get to play as contestants whilst the other four will act as "brokers" who will sell answers for cash. Interestingly, whilst the contestants are referred to by first name throughout the entire show, the brokers are only ever referred to by name during the "guess the combination" bit. For the rest of the show they're referred to by their occupation.
In round one, each contestant plays individually with the others out of earshot. They're given a thousand quid (ding!) just for being there, and the object is to answer ten questions in three minutes. For each correct answer the contestant wins one hundred pounds (ding!) but the target is to go ten for ten which incurs a £5000 bonus (dingdingdingding!). Easy! If they don't know an answer to a question then the brokers can turn a light on their desk indicating that they will sell an answer - the contestant calls upon a broker, the broker names their price, the two haggle (sometimes) and when a price is agreed upon the broker gives their answer. The money only changes hands if the answer is correct. From series two onwards there are also eight home brokers on the end of the telephone line to ask (to alleviate the dead air problem from series one, mainly).
In the first series this was slightly off. Anyone who got caught with a really tough question in their batch would end up spending money on any others they didn't know and ultimately end up with less than they started with. But people would get through their ten regularly, the average stack would have about 50% easy questions, 40% more difficult and one quite tough numeric question which if you didn't know the answer to straightaway you probably wouldn't hit the right answer if you spent the three minutes guessing either.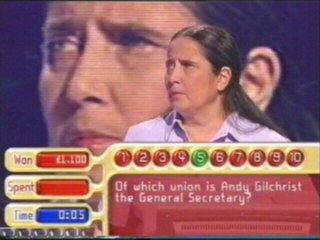 Fast forward to series three, the average stack is about 80% hard questions and 20% rather tough indeed. The brokers can make a killing but now the round is completely off balance - people are only getting one or two questions correct on their first run through and they are buying answers. But the closer to the target they get, the further back it gets them so when their time runs out, it's the players who have gone for it but failed who lose out to those who have failed to go for it at all. In one episode, a player uses up all her cash in answering nine questions correctly whereas another gets one answer correct and fails to get any other answers correct even with the brokers' help and waltzes through to round two with £1,100.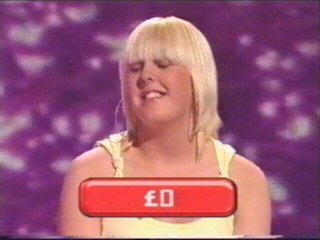 Surely this is a bit silly?
The two people with the most money at the end of the round go through to the head to head. They're given another £1000 and four minutes to answer questions alternately at £200 a pop. They have fifteen seconds to answer so if they don't know they can use some fast brokerage. If time runs out the opponent gets another fifteen seconds to answer the same question as a bonus. Whoever gives or buys the most correct answers wins a £5K bonus. Tot up the totals for both rounds, whoever has the most cash goes through to the final (although in the case of a tie, there's a three question Weakest Link style penalty shootout).
In the final round, the winning contestant has just two minutes to correctly answer ten questions. The first one is worth £250 onto her base total and the ninth question is worth £25,000 onto her base total. If they get Q9 correct, the clock stops the the contestant has to choose from three categories. The question is read, the clock starts. If they give the right answer within the time they win the jackpot + their base total. The player can't move on until a correct answer is given (so brokers if they know the answer can squeeze a lot of cash) but no help can be given for the final question. Win, and fireworks go off everywhere. Lose... and the people at home get a go!
You see, you can call (or text) to register for the show. Some will get to come to the studio but everybody else goes into a seemingly random draw (in that most of them seem to be women) and one lucky caller gets rung up at the end of the show. If they can answer six questions correctly (and they can have the help of anybody in the room with them) then they win the jackpot for themselves. Two of the six questions would have already have been answered during the evening's show. COULD IT BE ANY EASIER? Clearly yes, as more people get stuck during the two questions that were answered during the show then at any other point. Absolutely baffling. Still, this leads to massive jackpots, the biggest of which at time of writing is £700,000.
And that went went to a 17 year girl live on air who knew that an arctophile collected teddy bears. And in my opinion, that was one of the most electrifying moments I've ever seen on television - a genuinely tough question for a genuinely life changing amount of cash answered by somebody who could do a lot with it - LIVE. The other thing that makes The Vault lots of fun to watch is when there's one stand out broker running roughshod over everybody and ending up with more money then all the other players combined. When they start you just have to get behind them.
In summary then. it's a real shame then that a gameshow which has some truly great moments (big wins, stand out players, incredibly stupid broker answers) is plagued by some truly terrifyingly annoying bits (the unbelieveable unbalanced first round, Mel Sykes' robohosting - we always felt that Davina MacCall who hosted the first series was much warmer, livlier and more fun to watch). But it has to be said, we watch it anyway.
Thanks to UKGSPLer Travis Penery for screen grabs.