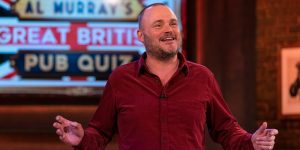 Thursday, 10pm,
Quest (Freeview 37) or online (live or catch-up)
Well this is a bit of an oddity and no mistake, Al Murray (the person, not the character) in a makeshift pub hosting a pub quiz with Shaun Williamson, slowly but surely losing his Barry From EastEnders moniker after about twenty years, playing the barman whereas seemingly Al Murray, the pub landlord character, is nowhere to be seen. Maybe it's for the best, Fact Hunt and Compete For The Meat didn't do great things after all.
Two proper pub quiz teams, along with a celebrity team captain, compete in a quiz to win a golden tankard and cash prize. Al asks the questions, Shaun is the Pointless Friend. Hopefully comedy will ensue (it was pitched as comedy I believe), but it sounds like the quizzing element will be played fairly straight.
It's certainly a unusual commission for Quest, which is Discovery's Freeview arm. Let us know what you think in the comments.