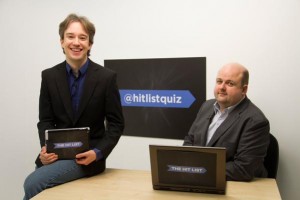 Tuesday 24th Feb, 4:30pm,
Youtube
Well more of an exciting runthrough, but it's got proper TV people working on it and a set and everything.
You may remember Tom Scott doing a live Youtube show called First Person Quiz last year, this is a v2.0 of that with a view to actual real television.
Again a contestant in studio will be racing the internet to find as many answers as possible to David B's questions but we've been told to expect a lot of format tweaks. Personally I have some question marks as to how it would work with an audience of millions, so it will be very interesting to see how it all comes across this afternoon.
I'll put the video back here if an edited one goes up. 
There might also be a practice go earlier in the afternoon, so make sure you keep it locked to @hitlistquiz on Twitter for the latest details.