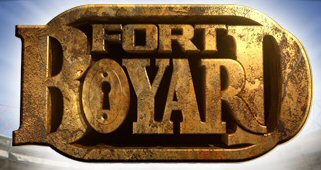 Begins Saturday 24th June,
7:55pm UK (8:55 France)
France 2 or inevitable naughty streaming
Also on Belgian La Une every Friday night, please do not spoil until French show broadcast.
In what's looking like a greatly exciting Summer with the return of The Crystal Maze, the granddaddy of the genre, Fort Boyard, returns for its 28th series in France and ten more teams of celebs arrive at the fort with the aim of prising Pere Fouras' treasure from his hands.
This year sounds like a continuation of last year's structure, likely retaining the board game theming, but with new touches here and there. Of note: adventures are governed by red clepsydres this year and it sounds like the prisons and Blanche's Hall of Judgement are getting makeovers not unlike the Council got last year.
Six new cells and 20 new games promised, there's a new Lady Boo and a new professor in the Boyard Academy, Eric Lampaert who's a British comic and French film star (although I must say I hadn't heard of him before this) alongside Francis Lalanne.
Join us as we dissect the show each week!