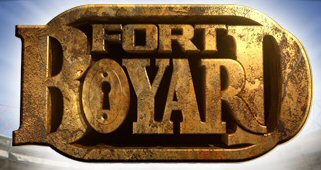 Saturdays from June 23rd,
7:55pm UK/8:55pm France,
France 2 and naughty streaming
Summer is officially upon us with the new and 29th series of Fort Boyard on France 2.
Ten more teams of celebrities travel to the Fort to take on the challenges set by Pere Fouras to claim his treasure for charity. This year we have the usual new tests, new adventures and new characters – Megagaf with his flyboard, the Bodins with their village fair and sporty kids now guard the cage. Narcisse Lalanne returns to run the Boyard Academy.
New events include the Magic Theatre, Car Wars and the Bank, and plenty of existing tests have been modified to keep things fresh. And this year some new players on the fort – crocodiles!
Unfortunately the red clepsydres return. We absolutely approve of finding ways to replace watching people fumble with a combination lock but we're not sure these really worked last year. Hopefully this year their significance will be explained properly.
Let the adventure commence!