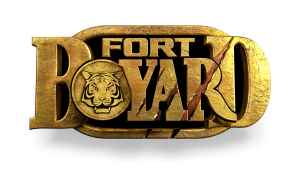 Saturdays from 21st June, 8:05 pm (UK)
France 2
For the 32nd time, teams of adventurous French celebs attempt to storm the Fort and take Pere Fouras' treasure, but he's got plenty of surprises and tricks up his sleeve.
This year PF returns to the watchtower in the name of SCIENCE, testing out potential new ideas for new tests in the BEEF (Bureau d'Etudes des Epreuves du Fort) whilst Willy Rovelli has been jailed for opening his speakeasy last year behind the dentist's surgery, and hosts a new iron stomach challenge from there, as well as a new 'mugshot' game to replace Willymix. Cyril Gossbo's role has been expanded, Slaime returns, but he's also got a new show, BinGossbo, where contestants have to answer questions picking out balls in a rotating drum whilst also actually in the rotating drum, alongside nasty creatures.
Also promised: a new Trapper character Gary Boo, the return of MegaGaf, an upside down kitchen, a flooded Underground station, a new telephone booth riddle game and ski lifts. And probably more!
Hopefully it's a return to form after last year's COVID series which saw everyone stationed at the Treasure Room throughout, this series looks like it's being filmed more traditionally. Eight of the eleven episodes have unnecessary Toujours Plus Fort! spin-off shows afterwards and doubtless there will be some interruptions for the late Euro 2020 taking it off some weeks. However, Fort Boyard's on so that means Summer is here!