And so our gameshow world tour settles on Australia, with a show that started with the Netherlands and originally promising a five million Euro prize. The Australian version began as a weekly show offering a Au$2m top prize, but this failed to pull in the viewers. After rejigging the presentation of the show and giving it a daily early-evening slot with a Au$200,000 top prize, it's been fairing much better.
This is one of the later early-afternoon series episodes.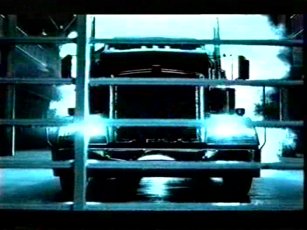 The show begins with a quick montage of a big truck delivering the massive payload to the studios – this is part of a much longer sequence that featured at the top of the earlier shows.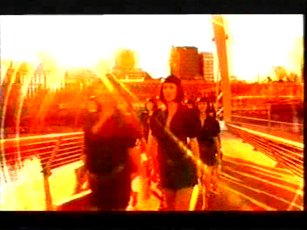 The twenty-six briefcased assistants, all of whom have the same hairstyle and clothes.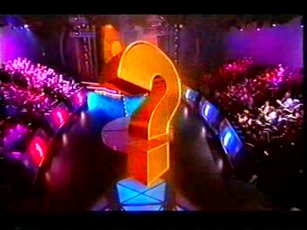 Here is the studio and our audience of 150. They've each been split into six groups of 25.
In the early big money series, there were eight groups of 25 and they were whittled down to one through a multiple choice quiz (everyone can cast a vote for an answer, the groups with the highest scores fought on and knocked each other out until only one remained).
During these shorter shows however, a group is picked at random. One wonders if a week's worth of shows are filmed with the same audience, giving more of them a chance.
Group 3 has won today.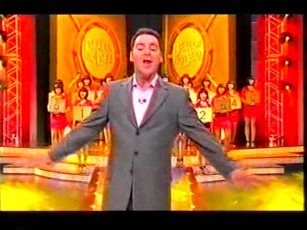 And here's our host, the actor Andrew O' Keefe.
Whilst the original show had a Millionaire-esque sense of menace with regards to the lighting and musical arrangements, these shows are much more upbeat and disco-y.
Whilst 25 people have been selected, the game demads 26 people. So one other person in the audience is picked completely at random…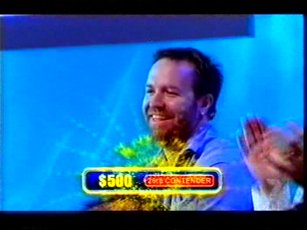 … and they win Au$500 for their trouble.
Down the other end of the studio, the 26 need to be whittled down to one.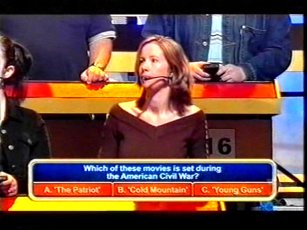 This is done fastest-finger style. Three multiple choice questions are asked. Whoever gets the most right and in the fastest time will become the player.
The answer's Cold Mountain, incidentally.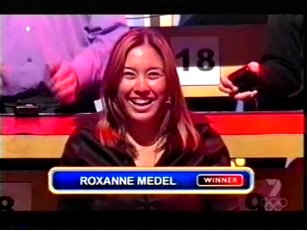 And our winner is Roxanne Medel!
The other contestants still have a chance of going home with some money, as you shall see.
Roxanne now needs to pick one of 26 cases. Inside each one is a cash value of between 50 cents and Au$200,000.
She picks number 20, and the assistant with the briefcase (named Roxy) silently hands it over to her.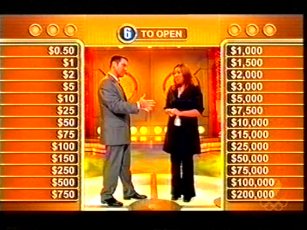 And now the game starts for real. The numbers down the sides represent the values in the briefcases.
The way to find out the value of the briefcase she's holding is to open all the ones she hasn't picked. Along the way, the bank will try and tempt her into selling her briefcase to them by making an offer for it based on the values still in the game.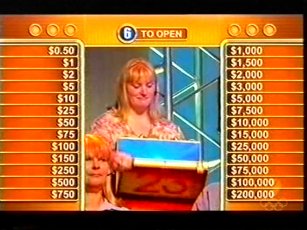 The losing podium contestants each hold a briefcase. Before they open, they can try and predict which value is in their briefcase. If they beat the odds, they win a flat Au$1,000.
In the early big money series, the prize for a correct prediction varied between Au$1,000 and Au$6,000 depending on odds. People picked to open in the first round played for 6K representing the longest odds, and people picked to play towards the end only played for 1K, representing much better odds.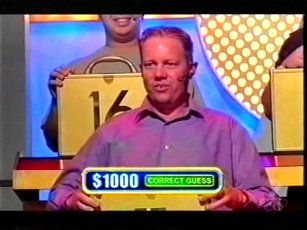 This man's a winner! And doesn't he look pleased.
The screens show a briefcase opening up with $1,000 on the inside. And the studio goes all firey and orange.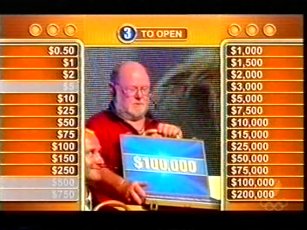 As values get knocked out of the game, so they are wiped off the board. Roxanne's made a very bad pick here…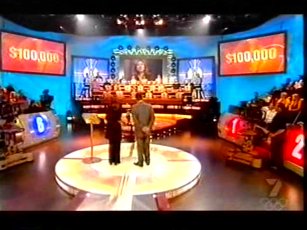 … and the screens go on and rub it in a bit more.
Still! At least the $200,000 is still up there, so she could still win the top prize.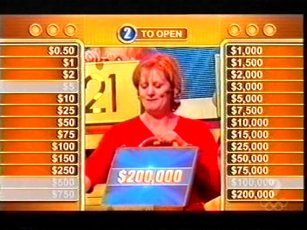 Um… er… oh.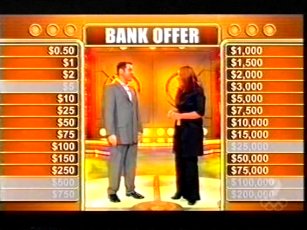 Well that was fairly rubbish as first rounds go. But it's time for a bit of excitement because the bank is about to make her an offer for her briefcase.
And it's a fairly derisory $650 with the big amounts out of the way but there are still ten higher values than that on the board, so it's a bit of a no brainer.
Roxanne is asked formally: deal or no deal? Naturally, it's no deal. I would imagine everyone would no deal the initial offer, to be honest.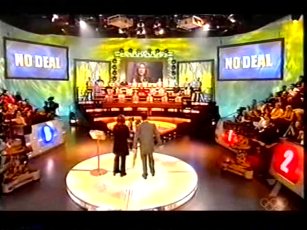 Everyone likes a bit of No Deal action, and it's a decision that normally provokes cheering, those happy gambling Aussies.
In round two, she will open five suitcases.
She's had a good round, knocking out more on the left side than on the right. The bank offer has tripled, but it's no deal.
The next round will see her opening four cases, then three, then two. and then the bank will make an offer after each case.
If she takes the deal at any point, she will be forced to play on to see what would have happened, and the players on the podia can still win their $1,000.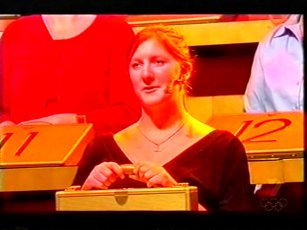 This is her neighbour. they had a pact to split any winnings between them.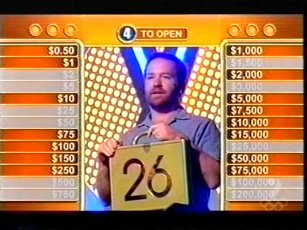 Picking case number 26 elicits a cry of "boo yeah!" from host and audience for no explicable reason.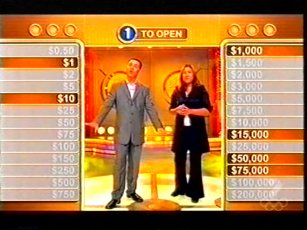 Skipping towards the end now and she's doing very well for herself considering her early form. Her last bank offer was for about $8,000. She only has to knock out one briefcase, and if it's a low one then the bank offers are going to start increasing dramatically.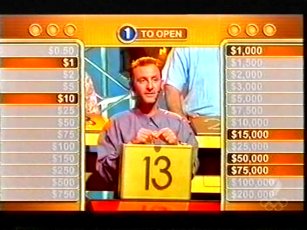 Case number 13 normally elicits a "woooooooohh…." response from the audience.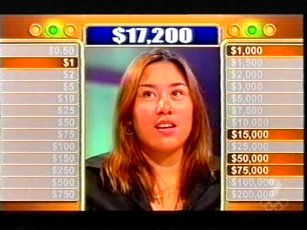 But it's good – it's just $100, and the lastest bank offer is double the previous one. She plays on…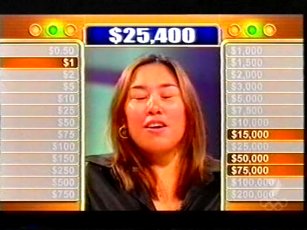 … and on…
Meanwhile, her neighbour wins a grand whilst similtaneously knocking out the last low number on the board.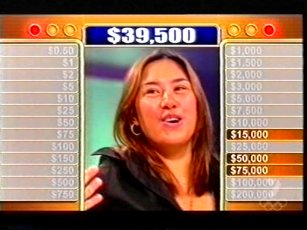 The absolute minimum she would be leaving with is $15,000. The bank is offering her almost three times that to leave the game.
But she figures that she's come this far already, she may as well see it out.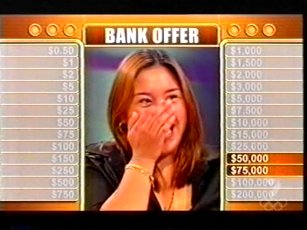 Good decision. The absolute minimum she could go away with is $50,000…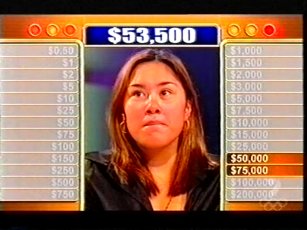 Harsh.
In the big money series, we're shown the guy who decides which value goes in which box, and the producers don't know. We'd hope the same thing happens here. It's not a particularly fair deal, and Roxanne chooses her case over the bank's offer.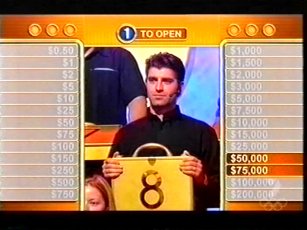 But before she opens it, the guy holding the last case in the audience is allowed to take a guess. Process of elimination will tell him if he's right or not.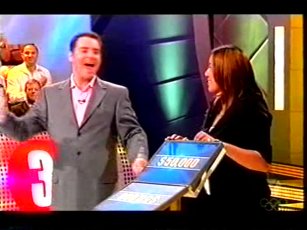 That's not a bad night's work when all is said and done, really.
We don't know if the show is quite as entertaining if the player is more consistantly unlucky, but our feelings towards this particular episode are positive.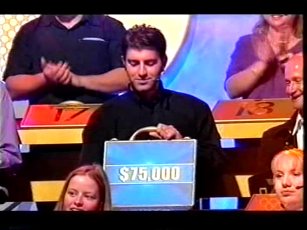 The proof…
… and there's Kylie with the cheque.
This should, of course, be the end of it. But it isn't. As it turns out, Roxanne didn't share the money with her neighbour as apparently promised, and last time we heard was being dragged through the courts. We know this because the story aired on Today Tonight, a popular current affairs programme in Australia.
This article was originally written in 2005. The following comments were left in the comment box:
Brig Bother
O Keefe points out at that point that if the 75K did go, then the highest on the board would be 50K and the next bank offer would likely to be about a third of that – $17Kish.
There's a clip floating round the internet (on the Aussie Game Show Page) of a guy who has only the $5 and the $200,000 briefcases left, and the bank offer him $102,500. I won't tell you what happens.
Au$25K is about £10,000. The projected $17K is still about £7,000. On the basis that you're risking £3K for a potential £30K payoff, would you do it?
NJ
Chances are that is a format that would quite easily work on a BBC1 Saturday night. There are plenty of ways they could shoe-horn the lottery into it too.
Seems like you replicated it well Brig.
Tim
But hasn't ITV bought it (in the guise of The Big Call), or was that just speculation?
This looks like a proper good show, and it appears to get good figures as such. Shame there's not many videos of it floating around on the web.
Brig Bother
That's just speculation – unless ITV are planning on lining up 26 celebrities or something.
It should be pointed out that:
a) I can't guarantee all episodes are as good as that. If the briefcases come up the wrong way, it could possibly be quite dull.
b) the presentation goes a long way to making it enjoyable, the original series lacked this one's zing, and Mr O' Keefe was irritating as hell. He seems quite likable now.
Brian Moore
Back in 2004, an American version of Deal or No Deal was supposed to be on ABC's primetime schedule for six episodes, but those broadcast were delayed for unspecified developmental reasons. I heard that Scott St. John (Street Smarts, Change of Heart, and Swaps) was one of the executive producers for the unaired US version.
Brig Bother
And that Patrick Kielty was to host.
He's hosting Celebrity Love Island now.
Michael
After my trip to the Canary Islands, Spain have got a version of this show called Alla Du. It's pretty good.
Brig Bother
The core game element is fairly solid, but if no thought is given to what goes around it then it's lost.
I can well imagine the Spanish version being quite good, having seen the Mexican version – they do like their loud audiences!
Matt 
I have just applied to go on the British version of the show. I will keep everyone updated as to how I get on, or not get on as the case may be.
I stupidly would risk it all, probably for £1.
Brig Bother
Yes please do! If you hear anything about format, top prizes and channel do let us know.
Ken
First I heard of this show is my wife entered me for an audition (without me knowing!) for the new UK version – I am sure they said it's for Channel 4 but I have to admit I was so surprised getting the call I wasn't paying that much attention.
I had no idea what the show was about so was grateful for this web site! Looks like it could be fun.
I've got my audition for the show tomorrow (Saturday 10th Sept) – will let you know how it goes.
Karl
I've got an audition tomorrow aswell…..at Liverpool.
Might see you there Ken.
Matt Rees
Well I have been to the London Auditions, on Saturday the 10th of September. And I can give a few facts about the UK version of the show, from what I heard. Firstly the prize money will be £250,000 pounds all the way down to a penny. It will just have 26 people rather than the 100 at the start of the show. It will be most like the friendly atmosphere of the french show with a very small studio tons of tracking cameras and a jokey approach to the style. However it will not have the same people in it for a month as the show is over there. We were shown the french show (with subtitles) where a guy won the jackpot. Each contestant had stayed in a hotel for a month and would only leave the show when they had a turn at the money. They all had nicknames for the contestants like Harry potter or Pamela Anderson. They also had the box with them for their number at their podium, they did not get to choose which box they wanted like the australian version. Again this is how I believe they want the UK show except without the nicknames.
Anyway if I get on I will give you more information.
Hopefully I will win the jackpot.
Oh by the way filming takes up to 3 days, and they said if anyone takes the first couple of offers they will pay off the contestant and scrap that show as it would not make good television. I guess I will have to go all the way then.
Travis P
I assume the 26 will be used for five shows. Like Pass The Buck where they used 12 contestants?
KP 
£250,000 top prize? On daytime Channel 4? That's just not going to happen.
I predicted at the end of last month that the show would actually end up at primetime, on the grounds that taking on Weakest Link wouldn't be a good idea and that (unlike Weakest Link) the top prize will be winnable given luck. Plus, there's rehashed repeats of property and holiday shows on some weekday evenings on Channel 4 anyway.
I quote:
'If I was the man in charge of such things, I'd put Deal Or No Deal on at 8pm on Tuesdays and Thursdays. In fact, who's to say that it won't make just such a move to prime time if it's a hit, perhaps with an increased top prize? After all, Weakest Link did it…'
With a £250k top prize, we might be seeing exactly that!
Guest 
ANDREW O'KEEFE DOES A MAGNIFICIANT JOB ON DEAL
Elise
I'm currently overseas and have been watching the Italian Version Affari Tuoi. Compared to the Italian host, Pupo, Andrew O'Keefe is actually a good host, compared to the annoying twat I once considered him
Brig Bother
It was certainly quite strange hearing that O' Keefe was hosting the Aussie version of Dragons Den. But I quite enjoy him on Aussie Deal, so good luck to him.
dave hopkins
what is not made clear on the uk version is how the boxes and values are allocated to each other and to the contestants and how the actual playing contestant is chosen and therefore it is not made clear if the 'banker' knows or not what the player has in the box in front of them ?
Brig Bother
They make it perfectly clear the banker doesn't know what's in the boxes. Noel mentions it explictly every episode.
NJ
The independant adjudicator puts the values in the boxes randomly and the players are chosen by the production team before each episode.
helen
what a rip off version of the english show sorry i love this programme in england so much better i know its basically the same but its a bit crapper really
steve
Andrew O'Keefe really carries the show in Australia i feel.. personally I find that the early rounds when the offers are low can be quite boring and I really only ever tune in from the halfway mark.. its actually quite funny when people end up with only lower amounts left.. a week or two ago a guy ended up with 50c in his briefcase and took the double or nothing on it and got.. wait for it.. nothing.. it was a fun moment.. poor guy.
but yeah, definitely the pace of the show (including the lively host and yelling crowd) help what could otherwise be a fairly dull half hour (just someone picking briefcase numbers)
incidentally I, as have many, went to a taping of the show, but I was unlucky in that in the 5 tapings they did on that day, my block was the one that didn't get picked!
laaron
how many countrys'like your show
joslyn
can i play on the internet
travis
This sucks
afshan
dear andrew okeefe
I think you cute beacuase i wish i could win put i am sorry i can't win 200,000 doller if i was with you than i could win the money. put my name is afshan i am study in year 10 i am smart in maths i love you very much i wish you come to visit me anytime you like can you tell what's your address please andrew okeefe please i what to now where you live is it in victorica
Thank you
to beautiful angel girl
My Name is Afshan
David
Deak or no deal is the best game ot no dout about it….. good luck to everyone that gets on the show
yo
what a load of rubbish
NJ
Who's betting that this article got so many more views when the UK version went all big?