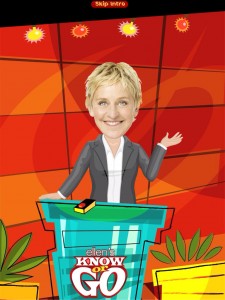 Version reviewed: v1.1
Requires iPad running iOS3.2 or later (iPhone version also avaliable)
Social: Game Center (Brig Bother)
iTunes Preview Link (also cheaper non-HD iPhone version)
Know or Go is a regular segment on Ellen Degenere's talk show where members of the audience stand on a trapdoor, get questions fired at them and then fall through the floor when they get one wrong for no discernable reason whatsoever, other than comedy. It's Russian Roulette without the Russian Roulette element.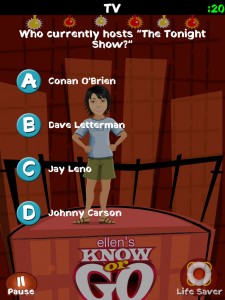 This is the app of it. You choose an avatar to be (female only as far as I can tell), dress it up and if you want use a photo to be the "face". Then you stand on a platform (the default is the studio but others are unlockable) and get multiple choice questions thrown at you on a variety of subjects – you earn points for speed of response. Every third question you get right earns you a lifesaver, a lifeline that will knock out two of the incorrect answers. One wrong answer and its game over. You get a choice of difficulty, the questions appear to get harder as you go on. The trivia is pretty standard stuff. There is a two player mode where you buzz in and answer but seeing as it looks like the only way to lose is to answer incorrectly this strikes me as being a bit pointless.
Ellen voices over everything but doesn't seem to have enough different things to say and the graphical style is quite interesting, cartoony but with occasional lifelike elements. I think that's about as exciting as it gets, really.