This is an interesting one, certainly we came into this expecting to slag it off, but actually it taps into something rather primal, the idea that if you don't use something you tend to lose it and as adults we tend to gravitate towards certain areas of knowledge and forget things deemed less useful.
With hilarious consequences!
It was an idea something successfully tapped into, albeit with a rather more straight face, with GSN's WinTuition.
This is a Mark Burnett production, of Survivor fame. It will be coming to the UK as Are You Smarter Than a 10 Year Old?
Here are the titles, the theme tune is sung by the kids.
The front and side of the studio has a "movable wall" which is taken out for filming.
The class come running in and take their seats. There are five kids.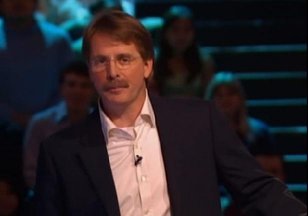 Here's our avuncular host Jeff Foxworthy, a popular redneck comic.
But there's a new student in class today, and here she comes now!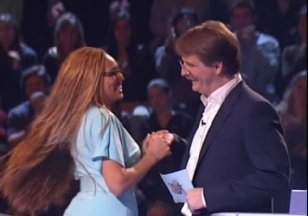 It's Shiela Beleios!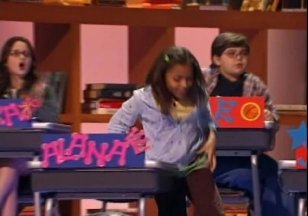 Shiela gets to choose one of the students to help her win the money. She's gone for Alana here.
All the students will answer all of the questions though.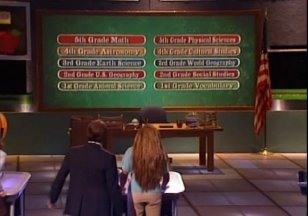 Here are the ten categories of questions for Sheila. They range from 1st grade animal science all the way to 5th Grade math. Or to give it it's proper name, maths.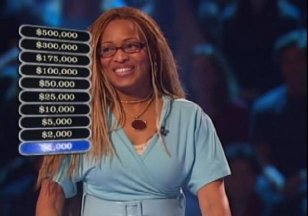 And here's the money tree. Ten correct answers wins $500,000. If she gets as far as $25,000 then that's safe whatever.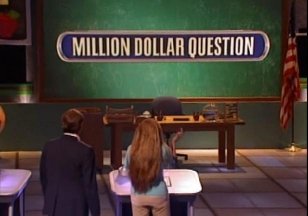 But if she goes all the way, she could win $1,000,000! Wow. And these are all questions ten-years-olds should be able to answer, so it should be really easy.
The desks. All the students write their answers on a computer pad. The contestant gives her answer verbally and then hits the big button on their desk to "lock in" their decision.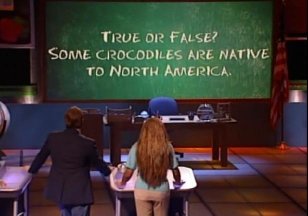 And she's selected 1st grade animal science to begin with. This is for $1,000.
If she needs help she has three lifelines. The first, "peek", lets her look at Alana's answer and then decide whether to take it ro go with their own thought.
The second, "copy", places complete trust in the student, whatever they put down is the answer they have to go with.
The third, "save" is for when they get the question wrong. If their student has given the correct answer, then they have been saved and can continue playing.
Each of these helps can be invoked once and a student sticks around for two questions before another is selected.
The kids have been found out to be child actors (so that they can cope with the pressure of the audience), but Fox denies completely that they've been told the questions in advance.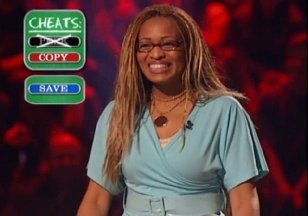 And as we can see, she's already using her "peek".
The answer Alana has given, which is revealed on one of the large screens, is "true".
She goes for it, she's correct!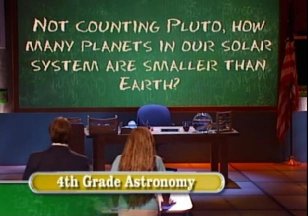 After the stunning start on the first grade she decides 4th grade astronomy would be a good idea right now.
She's wavering between 3 and 4, so she puts faith in her student and uses her copy.
Thankfully she's correct! Mercury, Venus and Mars are the other ones.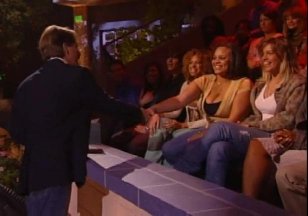 Jeff meets the family in the audience. He points out that she's not got one correct on her own yet.
As Alana has done two questions, she must pick a new student to be her assistant. She goes for Spencer.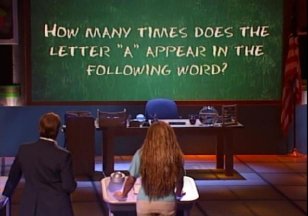 The word is "mastodon".
Sheila is struggling between two and three and plumps for two.
A caption comes up suggesting she was an honor student in high school.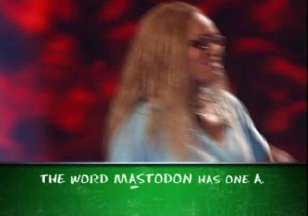 She goes for two. Luckily her assistant is correct with his answer of "one".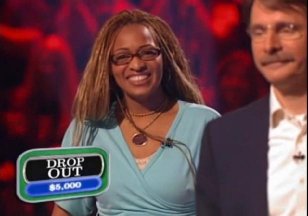 She decides not to continue after seeing the next question, therefore she drops out with $5,000.
But as part of the deal, after she drops out she has to look straight into the camera and declare that she's "not smarter than a 5th grader."
New contestant Roy is bought on.
To be honest, there's not much more that needs to be said about the show, but we'll put the questions up for you so you can see how you'd get on.
So that one is true. The rest we'll ask you to highlight.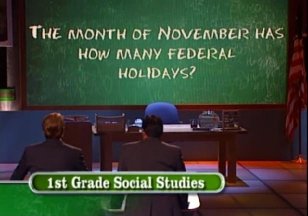 Highlight:
Two, Thanksgiving and Vetran's Day.
Highlight:
Female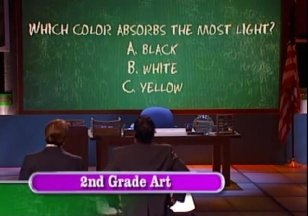 Highlight:
A. Black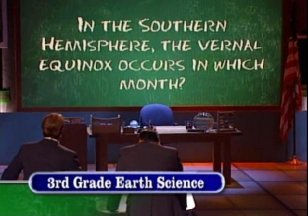 Highlight:
September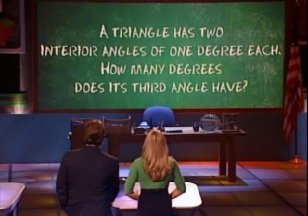 Highlight:
178 degrees
Unfortunately both her and her student thought the answer was 1, so she flunks out with nothing.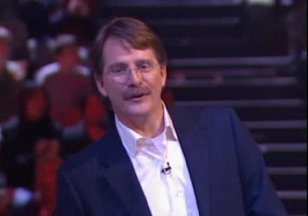 "Teachers of America, we can't give the money away! Join us next time on Are You Smarter Than a 5th Grader!"

This article was originally written in 2007. The following comments were left in the original comment box:
Tim:
Excessively high-paying tension-free money trees, three lifelines, brash moronic contestants, obscure comedian plucked out to host – this could pretty much be any new format on US TV right now, couldn't it? 
I wouldn't be surprised if there was the usual sweeping-through-centre-of-logo affair during the opening sequence neither, something I distinctively remember Alex Davis off of Internet's "Buzzerblog" poking sharp fun at, much to my amusement.
Brig Bother:
Unfortunately, I've failed 1st grade apostrophes in that feature. 
I don't really think the appeal of the show is in the money or the mount of tension, it's by all accounts a pretty straight comedy quizzer and by and large it works – certainly I found myself second guessing my own answers to some of the questions, and I'm brilliant. And clearly stupid. Foxworthy's got a good rapport with the kids which is amusing. 
However, its ratings have been on the slide big time recently after a strong start, which suggests the joke wears thin quite quickly.
Dave – Show 56:
I wanna go on this show! Watched a couple whilst i was in America and it was ace!
Bobby:
Keep in mind the show piggybacked on the Pop Idol success. 
Another problem it has faced has been violating Mark Burnett's own "Burnett shows cannot go against each other" rule imposed in 2004 when The Apprentice could not go up against Survivor. (5th Grader goes up against Survivor) 
Burnett does not want his shows against each other. Fox has been promoting 5th Grader through a strange promotion in their motorsport programming. In one promotion which aired during their motorsport pregame programme, presenter Foxworthy puts a question about the rotation of which planet being the opposite of the others. The lead race analyst, who homeschools his two daughters, answered correctly. Foxworthy will appear Sunday as Grand Marshal during Fox's motorsport programme for one of US saloon-car racing's three "majors". (Daytona 500, Aaron's 499 at Talladega (Birmingham AL), and Coca-Cola 600 at Concord, NC (Charlotte). There was a fourth major (the Southern 500 in Florence, SC) but that was eliminated by a lawsuit.
Mister Al:
The kids have been found out to be child actors (so that they can cope with the pressure of the audience), but Fox denies completely that they've been told the questions in advance. 
Not according to what Noel Edmonds said before today's recording of the UK version…
germany:
this show is now also in germany under the name "Das weiss doch jedes Kind" which means "That knows every child" 
Dave – Show 56:
we were told that the kids were all found for the UK version through a big audition process!
Paul:
The UK version I would say is the same as the US
Ronald:
How come Roy turns into a lady?
Guest:
this show is now also in germany under the name "Das weiss doch jedes Kind" which means "That knows every child" 
A better translation would be "Every child knows that." =)