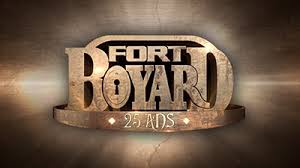 Saturdays 7:45pm UK, 8:45pm on the continent.
Watch live on Pluzz with a VPN, other alternatives likely available.
Don't tell anyone, but 25 years ago is 1989 and the show began in 1990. But here we are at season 25 of Fort Boyard, it must be the world's longest running adventure game these days and continues to thrill kids and adult kids of all ages.
It's survived several changes of host, several changes of staff, many changes of games but the main character, THAT OF THE FORT ITSELF (and Pere Fouras) (and longest serving staff member Passe-Partout) is still standing after all these years of teams running around and pitting their dexterity and physical and mental strength against the challenges of the fort, and arguably it's a more confident show now than it's ever been.
This year sees a new character in Vincent C fronting the Magic Academy up in the watchtower, a variety of new games (some of which may yet be a surprise, I don't think anyone knew about the Battering Ram before it appeared on screen this time last year) – if previous year's themes were "ways to dress up moving a thing attached to a pipe" and "ways to dress up things on turntables (horizontal or vertical)" this year's cells seemed to be based on "ways to dress up filling up a container". But we're also looking forward to the Hall of Illusions with the Firefly.
This year I've given over a discussion page to the proceedings – ten episodes and a best of. Let's hope it's a good vintage!