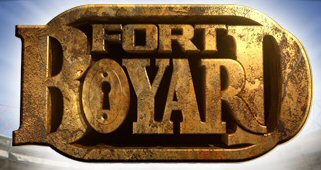 Saturdays from June 27th,
7:50UK/8:50 in France,
France 2 / Pluzz.fr (will require a VPN or alternative) / or see below.
Series 26, it's the actual 25th anniversary year of our favourite French summer series, the grandfather of the modern adventure game, Fort Boyard.
This year another ten episodes and changes are afoot! The team now have to earn the right to enter by finding medallions in various places at the fort's entrance, there are new walkways around the fort, a new "bit" called The Cage where teams duel off against Pere Fouras' all-star celebrity team for keys under the auspices of Rouge (Blanche's twin sister) and even the fort's basement is back in use for prisoners to escape from against the clock. Hurrah!
Pere Fouras is going big on celebrity characters this year, six former contestants make up the All-Stars, the watchtower has turned from the Magic Academy into the Boyard Academy, featuring a rotating set of experts to puzzle the teams (although last year's Vincent C remains one of them), comedian Willy Rovelli still has his restaurant and actress and former Miss France Delphine Wespiser continues playing Judge Blanche, but also plays twin sister Rouge.
There are five new cells and three new adventures but once again the focus of the new stuff seems to be on the extra-curricular – the assault on the fort, the cage, the great escape and undoubtably there will be new games in the Council as well.
It all sounds very exciting, it's tempered rather by the fact episodes are looking at 2:10-15 in length (much preferred it around 1:30, although it's been some years since that happened), and we very much hope the new games are of the mechanical variety and not "the producer feels like pushing a button to release the key" variety. We hope not to feel the hands of the production too much and there is not a need to basically fix things to make other things happen.
Fingers crossed for a classic vintage!