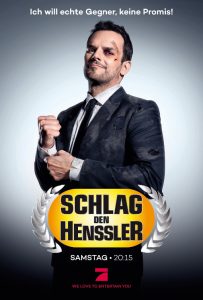 So join us once again for another thrilling live episode of Schlag den Henssler as a contestant (who is being picked by an online vote this time round) takes on celebrity chef Stefan Hennsler over 15 unusual events LIVE for a rollover €750,000.
That's 7:15pm UK time, going on until around midnight. Time will tell whether it's a particularly Christmassy episode or not.
MEANWHILE don't forget it's the The Crystal Maze Mid-Advent Special this Thursday, 9pm on Channel 4. It's sure to be a bit sarcastic!
Finally we were surprised and shocked to hear Keith Chegwin died yesterday, so here's Cheggers Plays Pop, with incredible buzzer hats.