Thanks to TV's Michael Harmstone for alerting us to this, we're two months from Mol season and today Arvo released the cast photo.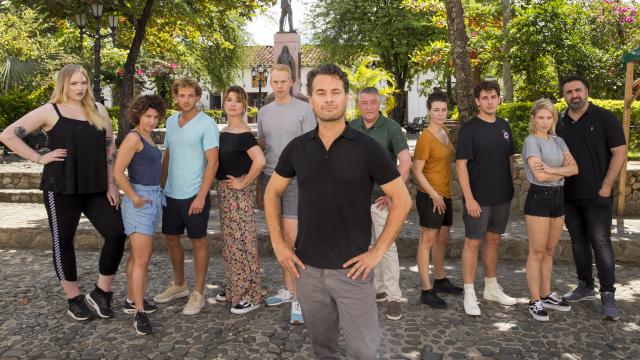 Who are these people?
Probably most important, new host Rik van de Westelaken (middle) – newsreader, quiz show host, sometime host of Moltalk and winner of WIDM 2015 (discussed here). One of the ten celebs behind him will win money by completing tasks and uncovering which one of the ten is being paid to work against the team for our entertainment. But who is the mole?
Nikkie de Jaeger – Dutch make-up Youtube star. Over 11m subscribers!
Evelien de Bruijn – DJ and host.
Jamie Trenité – Adventure and Science show host.
Evi Hanssen – Flemish presenter, ex-host of Expedition Robinson.
Rick Paul van Mulligan – Actor.
Robert van Beckhoven – Professional baker.
Merel Westrijk – Newsreader and morning show host.
Niels Litooij – Electronic musical artist
Sarah Chronis – Actress.
Sinan Can – documentary maker.
And Michael points out that the WIDM Instagram has been dropping hints that they've gone to Colombia this year, although WIDM has a habit of splitting over a few places.
Not long to wait, usually it starts first week in January, and hopefully someone will be providing English subs. Ditto the Belgian version which will probably start around March. Exciting!