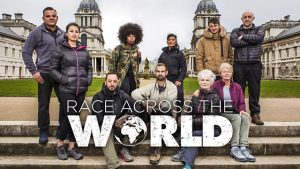 Sundays, 9pm,
BBC2
Five pairs race from Greenwich, London to Singapore without taking a plane or using a smartphone. They have enough money for the equivalent airfare (£1,329, fact fans) and if they run out they have to earn more. They'll have to hitchhike their way around the world taking in five checkpoints, and there's a cash prize for the winners at the end (although at time of writing we don't know what it is).
We're pondering if this is an official version of Peking Express, it certainly sounds very similar. Did Studio Lambert get the rights to it, or is this just a similar show along the same lines?
Anyway, let us know what you think in the comments. Will it be awarded a Dancing Dawson?