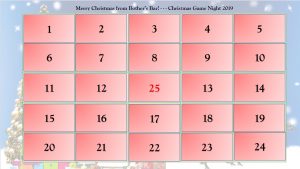 Friday, 9pm GMT
Here and on Youtube
What delights await inside the doors of the Bother's Bar Advent Calendar?
GAMES! Games and surprises. Tonight seven panellists and YOU THE AUDIENCE will go toe to toe with each other and the best of Jackbox, and tonight a surprise opener we'll be playing for the first time at 30 frames per second.
To join in all you need is our live stream – link will be here when it starts – and a device that can log on to jackbox.tv to input all your answers. I'll be keeping an eye on the Youtube Chat all night, and tonight we'll be requiring a Voice of the Audience for the final so keep your microphones ready.
Following tonight's broadcast, Game Night Extra pre-recorded a game of Use Your Words last night, so if you wanted to know what that's like then sub to the Bother's Bar Youtube channel and it will pop up after.
Edit: Here's Game Night EXTRA: