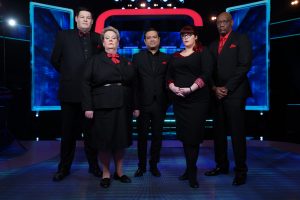 Weekdaily 27th-1st, 9pm,
ITV
Intriguingly stripped nightly quiz where a player can win thousands of pounds by taking on not just one but an entire team of Chasers.
As we understand it each player gets a five question cashbuilder, and then a choice of offers – play against more Chasers with a smaller headstart for more money. What follows is a chess clock quiz (which also works a bit like The Final Chase in reverse, here's its the team of Chasers on the buzzers against a lone contestant). Outlast the team, win the money, and several contestants will get a go in each episode.
We have our misgivings with chess clock based quizzes (they're rarely actually as exciting as they look on paper, winning is much more about opponent attrition than it is about being able to Do A Thing, so they're very difficult to come back from if you fall behind), and the scheduling for this feels a bit… hopeful?
On the other hand, the Chasers and Bradley are assets, and you have to think this would be an easy sell to all the international territories that currently make their own version of The Chase if it works out here.
Let us know what you make of it in the comments.