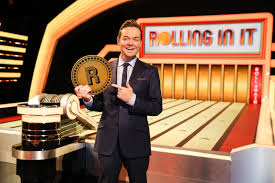 Saturdays, 6:25pm,
ITV
Here we are then, Stephen Mulhern (almost wrote Merchant then, must be the heat) brand new (filmed a year ago) arcade machine quiz where three celeb/civilian pairs of contestants answer multiple choice questions and roll giant coins down a giant coin rolling machine in the hope of avoiding the bankrupts and going home with thousands and thousands of pounds.
We were at the pilot August 2018 and the game needed a fair amount of tightening up, but from a production value standpoint felt pretty much ready to go.
Watched it? Let us know what you thought in the comments.