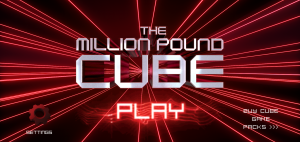 Saturdays and Weekdays, 9pm,
ITV
It's back, and now it's Ben Shephard's production company making it.
The biggest changes, other than being filmed without an audience, is that Philip Schofield now presides over teams of two, and that the top prize is now a million quid. It looks like the Swap now replaces the Trial Run, which I think means getting to swap the player rather than the game, but we'll see. Not sure I love getting rid of the Trial Run, if only because if you've set a game up you might as well see it played.
Also intrigued to see what, if any, new visual effects they have after five years off-screen. The Cube was probably the most futuristic looking show since Roy Walker's Catchphrase. It's quite interesting that few other shows have borrowed the techniques since. Looks like we might have some new Foster/Bolam tracks of various intensities which were always one of the best things about the original show.
Two celebrity eps this and next Saturday and civilian eps stripped at 9pm this week. Not sure what numbers they're hoping for and what would be seen as good, The Cube was never actually a massive rater (except for the one early series it was plonked before The X Factor where the stars aligned for it a bit), but it always did quite well in the hard-to-reach young male demographic.
Let us know what you think in the comments.