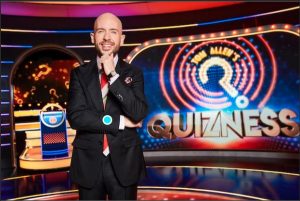 Fridays, 8pm,
Channel 4
Rapidly becoming TV's hardest working man Tom Allen invites contestants to show off their knowledge in a bid to win £25,000.
BUT, it's not just knowledge that's needed but an element of mental agility too as they must usually do something to the answers to make it sound a bit silly, whether that be substituting words that begin with certain letters with different ones, or forming a chain of answers that builds up to a punchline.
A bit Big Money Richard Osman's House Of Games? Maybe. I can say, having done some of the early runthroughs, that there's a subset of people who are likely to absolutely dig it, and probably a subset of people it's likely to leave a bit cold. Lots of Bother's Bar sorts working behind the scenes on this, so I'm hoping it's a good end result.
But what do you think? Let us know in the comments.