Look it's sort of a pun on De Verraders, alright?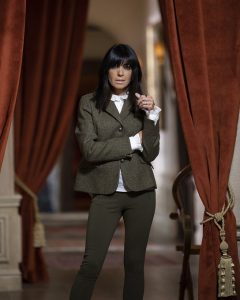 Anyway Claudia Winkleman's the host of The Traitors, which is legitimately quite an interesting choice.
Basically a large scale game of Mafia/Werewolf, The Traitors sees an informed minority try to survive against an ignorant majority in a series of dramatic votes and strategic takedowns. Money is collectively earned in The Mole-esque challenges, but crucially everyone is playing collectively in these tasks, and it will be split at the end of the series by the surviving Faithful, alternatively if a Traitor survives until the end they'll get it (or split it) for themselves. There are also tasks, ways and means to earn immunity from the votes (and indeed being 'murdered' by a Traitor).
We know it's going to be 12-episodes, it remains to be seen how it might play out if the Traitors get eliminated early (in the first Dutch series, the first eliminated Traitor was replaced but I don't know if that'd fly here). Presumably there will be one or two challenges per episode (£120k is the max prize) book ended by eliminations, if they start changing that formula it might make the ending a bit of a foregone conclusion.
Basically plenty of questions and intrigue to come, then, we have the outline and now we're extremely interested in seeing the implementation.