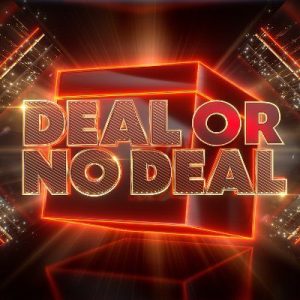 Weekdays, 4pm,
ITV1
I ought to start by saying how much I enjoyed Deal or No Deal back in the day – in some ways it was the 'making' of this site, when people were offering live commentaries on a daily basis and I was stuck at work F5-ing like mad waiting to see what happened. Like most things that interest eventually wanes, but at its best Deal or No Deal was electric television and even years on after peak-Deal you'd occasionally find yourself at a loose end watching an episode and thinking "yeah this is a good television show isn't it?" Partly the format. Partly the ability of unusual gnome Noel Edmonds to spin up the tension to extremely engaging levels. Partly a Banker with a wicked sense of humour and a very good ability at finding pain points. Partly the casting.
It's only been seven years since it was axed so this reboot feels a bit quick – certainly the original is still in living memory. We don't have unusual gnome Noel Edmonds hosting, now we have extremely slick magician Stephen Mulhern hosting – he is extremely good with the public, the jury is out as to whether he can spin the tension up in a believable way. I'm sure the casting will be fine. We will have no idea if the Banker is any good until broadcast. The format? Well, the second I saw the new board set-up my heart sank – sure, £100,000 is a lot of money but it's clearly quite a lot less than the original. The fewer larger reds is what's going to really kill it though.
Deal or No Deal is a game of luck, duh, but it's a game about decisions and people living with the consequences of their actions. That's where the entertainment is. It ought to be a rollercoaster, there ought to be moments of exhilaration and moments of regret. But the new board doesn't allow for it, what the new board allows for is bank offers of between £2,000 and £5,000 for approximately fifty minutes, and if there's a five-figure red still standing at the end (which the odds suggest will happen once twice a week, even if one of those reds is just ten-thousand pounds) maybe a slightly higher one in the last ten minutes. And that's going to be an extremely stodgy hour of television to watch. I'd rather have £5,000 in my bank account than not, but as a TV journey I'm not sure if I can shrug any harder. Sure, a 1p vs £100k ending is universal, but the journey to get there certainly isn't.
Tipping Point currently does about 1.7m in the slot, and we can take overnights as pretty much read for daytime entertainment, they aren't going to add much in catch-up. I have no doubt this will open to similar numbers. I think it will be trending towards a million by the end of week 2. Thank goodness it's not going in the The Chase slot as we thought provisionally, and I hope a lesson that if you can't afford to do it properly, don't bother doing it and do something else instead, it's not like anyone was clamouring for a Deal or No Deal revival. Added to this there has not been a single successful revival of the format internationally in the last five years, and some big markets have tried.
Let us know what you think in the comments!