Premiere episode: Saturday 6th April 5:10pm, Channel 4,
Subsequent episodes: 5pm on Channel 4,
Celebrity Specials on weekends.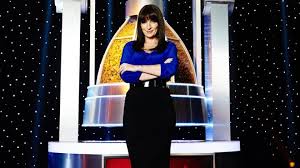 Well we've been looking forward to this for a while and it's opening today after the Grand National with a celebrity special featuring the teams of Ann Widdicombe with Anton de Beke and Jo Brand with Meera Syal.
It's a pretty simple game – one person answers questions, the other person determines how much of the five minutes their partner is going to get. If the gameplayer gets five questions right in the time allotted, great. If not, a massive hourglass filled with prize money flips over and starts draining out until they succeed. After five games, the timekeeper has one final list based challenge to win all the money that's left in the hourglass.
Some of us went to see episodes being recorded. From the recording I think it's a really strong concept with a nice variety of interesting quiz ideas, but also that it's probably one or two playtests from being perfect (five minutes doesn't feel like quite enough time to be able to have a proper strategy given the questions, and the five minutes it takes for the hourglass to drain might not look quite as exciting as the idea sounded). That hourglass is a GREAT prop though.
Of course we have those opinions on the basis of one game and without the benefit of seeing how it's been edited.
Civilian episodes go out during the week with a £50k top prize, celebrity episodes on Saturdays with £100k on the line. Just as it will be up against Pointless and The Chase on weekdays, it's up against them on Saturdays as well which is an interesting scheduling decision.