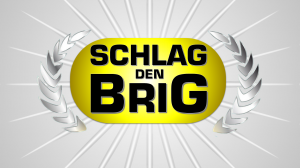 Saturday 8pm (UK time),
Youtube and viewable RIGHT HERE.
#sdb
#imbackingbrig
#teamdan
It's time to choose a side.
We are too good to you. In January we provided four hours of live entertainment, the likes of which the Internet had never seen before – a hilarious low rent version of German event television show Schlag den Raab (Beat (the) Raab) played across Youtube on webcams with fun and inventive games from the devious mind of The Crystal Maze and Only Connect's David Bodycombe. Fifteen mystery challenges of mental agility, psychology, dexterity and skill bought to you LIVE. THE WORLD HAD NEVER SEEN SUCH A THING. On the night Dan got lucky.
Almost three months has passed and I've been in training. I will prove once and for all Dan was a bit lucky first time round.
This Saturday night we're back BIGGER, BETTER and MORE INTERACTIVE – play along at home, and in some cases influence the results in some of the games (so try to watch live!). A fresh fifteen games await us and me and Dan have no idea what's about to hit us (except for the two proper You Bet!-esque games we've filmed outside a fortnight ago and have had video packages put together by proper TV person Michelle Martin, god knows she didn't have much to work with but by all accounts they apparently look great). The only other person who knows is our referee and commentator for the night Lewis Murphy.
HQ link to Snooker Golf: 
https://www.youtube.com/watch?v=Ncen8L5GGrE
HQ link to Merken Mercedes: https://www.youtube.com/watch?v=xMlzGPPyslQ
Watched the show? Fill in the feedback form!
We'd love to hear your comments – comment on the Youtube stream (or preferred) Twitter with #sdb and we'll read them out during quiet bits. Or Lewis will at any rate, we're not allowed to access Twitter during the recording.
Anything could happen – it's an unrehearsed live show with lots of chains of technology involved and two people who are winging it completely, please bear with us if something goes wrong, follow me, Dan, David and Lewis on Twitter for updates.
If you miss it you should be able to watch the stream afterwards, for most fun we recommend watching live. We got great viewers last time, we want to smash that this time!