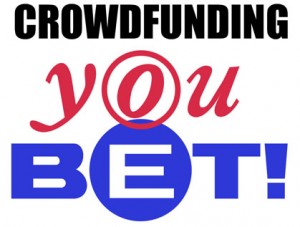 So yesterday I had a brilliant idea on Twitter, basically somebody should do a new version of You Bet but with people betting on whether something that's gone to crowdfunding would make their target or not. Each project would have a celebrity backer and if it didn't hit the target they'd have to do some sort of mildly humiliating comedy forfeit, meanwhile the audience at home could vote and whoever was correct could win some sort of prize. As a stretch goal we could get Darren Day.
Anyway what better way to explore this proof of concept than with our very own pilot! We're not having a celebrity backer but otherwise everything is the same – will our nominated crowdfunded project hit its target within its time limit?
As pointed out with lots of crowdfunding projects they will start off with an initial splurge of excitement and gradually slow down to a trickle with time.
36 hours into its drive the Crystal Maze Live Experience it has 40% of its total and has 34 days left to find the other £300,000 required. At that speed it will smash its target, but the question is… will it? They will get all monies donated regardless.
BETTING HAS ENDED.
Only one guess per punter and I reserve the right to exclude dodgy looking votes, my decision is final. One person who picked the correct answer will be picked at random will win £20. If the funding campaign is cancelled at any point before reaching the target that counts as a "no". If you live outside the UK you must be able to accept PayPal. I can change the rules at any time blah blah blah blah.
Get your skates on, because BETTING ENDS Tuesday evening at 10pm (that's tomorrow as I write this). Good luck!
Meanwhile our chums at What3Words could do with some help in winning some money off of Richard Branson and if you help you can take part in a quiz to win some prizes.
Ta-ra!