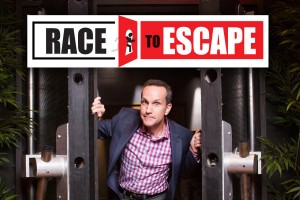 OK, I'm out this evening so I'm not going to get to watch until tomorrow, but it looks like the first ep of Science Channel in the US' Race to Escape is online. Although I'm just getting a black screen at the moment, regardless of using dark magic or not.
I'm hoping it will eventually start working because it's Very Much The Sort Of Thing We Like – two teams trapped in two identical puzzle rooms and have to solve puzzles to unlock the doors and escape winning up to $25,000 in the process. It's the sort of thing people thought would make for a good TV show for a while, so I'm excited to see if the reality of the thought matches the fantasy.
You should probably expect spoilers in the discussion in the comments, I would advise posting the "can I get it to work" questions in this post here.
And if this is the sort of thing you'd like to do in real life (without the $25,000 top prize normally), you should give the Exit Games UK blog a look.