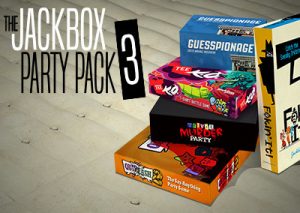 Next Saturday, 29th October,
9:30pm-11:30(ish) BST
Here and on Youtube!
A new Jackbox Party Pack is out! And that means new STREAMING fun as next Saturday a panel will be playing games of creativity, strategy, knowledge and bluff from across the entire Jackbox range in an attempt to amass BotherPoints to give them some sort of agency in the Game Night Arbitrary End Game in a bid to come away as Game Night Champion!
And as usual we will be COMPLETELY INTERACTIVE. Watch along on your monitor and play along on your phone or tablet. YOU can answer the questions, YOU can judge responses, YOU can influence how the night plays out. So exciting! And this time we've worked out how to do in-game audio!
As usual I'm looking for a panel to playalong and react LIVE to proceedings. You will need a two screen set up – one to watch the feed I'm sending you on a Google Hangout screenshare and a second to play the games with. You will need a microphone. And you'll need to be available from 9:15pm until the close of play. You will also need Twitter so I can arrange things with you all individually or as a group.
As ever I'm looking for a mix, reliable regulars and new people. If that's of interest to you then you need to hit me up, "at" me on Twitter or get in contact in other ways. This is likely to be oversubscribed so please don't feel bad if you're not selected. We have not had much female representation so far, not for lack of trying, so you should especially put yourself forward if that's you.
And if you don't want to be on the panel and just want to dip in and out of the livestream that's great! Have your phones ready and join us next Saturday. If you want to see what it's like, here's the last one in all its three frames per second glory: