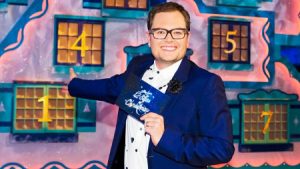 Monday 19th – Thursday 22nd,
10pm,
Friday 23rd 11pm,
Channel 4
I don't expect this will generate much discussion, being at heart a comedy quiz show more than anything, but I've got to fill the week up before Christmas with something. Anyway there is quite a fun twist in that each of the three panellists are playing for prizes for one third of the audience (the likes of which not seen in anything since, er, Winsanity on GSN earlier this year) so there might be some fun.
There's also a giant advent calendar involved.