Starts 5th January on AVRO.
Ten celebs travel around Colombia taking in the sights and sounds and completing mental and physical tasks to earn money for a group pot, a pot that only one of them will take home. One of the contestants is a double agent, a Mole, working with the production team to try and sabotage the tasks without detection. The winner is not the person who is best at the tasks but the person who best works out who the mole is and tracks their actions as week by week the contestants must take a computer test to determine how much they know, the lowest scorer is immediately sent home.
This year we have a new host in ex-contestant Rik van de Westelaken.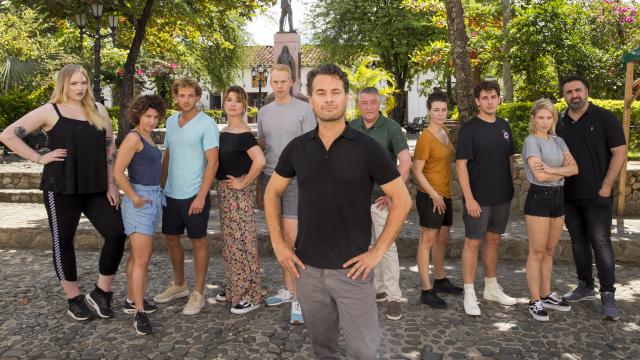 Who are these people?
Probably most important, new host Rik van de Westelaken (middle) – newsreader, quiz show host, sometime host of Moltalk and winner of WIDM 2015 (discussed here). One of the ten celebs behind him will win money by completing tasks and uncovering which one of the ten is being paid to work against the team for our entertainment. But who is the mole?
Nikkie de Jaeger – Dutch make-up Youtube star. Over 11m subscribers!
Evelien de Bruijn – DJ and host.
Jamie Trenité – Adventure and Science show host.
Evi Hanssen – Flemish presenter, ex-host of Expedition Robinson.
Rick Paul van Mulligan – Actor.
Robert van Beckhoven – Professional baker.
Merel Westrijk – Newsreader and morning show host.
Niels Litooij – Electronic musical artist
Sarah Chronis – Actress.
Sinan Can – documentary maker.
A link to discussion of relevant episodes follows. We thank Friend of The Bar Marieke (here's her Twitter) for reliably translating episodes in her spare time. We ask our international friends to hold off from commenting on an episode until the subtitled episodes have gone up.