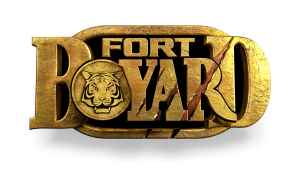 Saturdays from July 11th,
8pm UK/9pm France
France 2 and hopefully Youtube
This ought to be an intriguing year for the show – the 31st season (and actual 30th birthday), and filmed under COVID conditions – facemasks at the relevant times and teams are reduced to five (from six) and they'll stay outside the Treasure Room with Passe-Partout taxi-ing relevant players to relevant tests – not unlike how they did the bonus tasks on Toujours plus Fort! last year (which is also back for post-adventure entertainment after eight of the eleven episodes this year).
But they're promising this won't be a wasted year, there only seem to be a couple of new tests and adventures (that have been revealed to the press anyway) but they've gone big on the side events to freshen it up. There are the new Boos (Big and Little to go alongside Lady Boo), Willy Rovelli's restaurant has been shut down in retaliation for opening Boyard Land without asking Pere Fouras first so he's opened a speakeasy and changed the nature of Willymix, Cyril Gossbo is a new Ken doll-like character representing "the perfect gameshow host", played by regular celeb contestant and ex-FB intern Cyril Ferraud, and the Boyard Academy has opened for remedial lessons as everyone's missed school for months under the tutelage of comic Kevin Raze, who unfortunately is the laziest professor ever.
So plenty of surprises in store, hopefully it will still be a good watch even under the difficult recording cirumstances.
To watch live outside of France you will need a VPN. The last few years production have put up the full episodes on Youtube ungeoblocked soon after broadcast on the official channel, but there's no guarantee they'll do the same this year.