This isn't the first time the show has been tried out in Germany (the original one was hosted by none other than Linda de Mol), but this latest incarnation seems to be the most successful yet.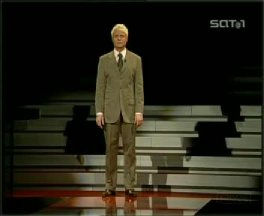 Our host Guido Cantz.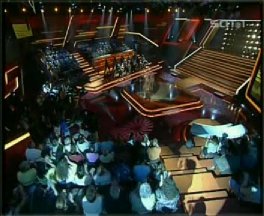 Overview of the set, similar to the US set but with more parallelograms.
The music is the same as the US show.
Der Gluckspirale seems to be some sort of German lottery, which sponsors this show.
Ten contestants, each one hoping for a shot at the money. Only one of them will get a go though.
And it's a buzzer game to determine the winner.
Guido will read a list of clues out describing (in this instance) a person. The first person to buzz in with the right answer is the winner. However, if you buzz in with the wrong answer then you are eliminated.
This evening's lucky winner!
Guido says something along the lines of "James Bond has one Bond girl, I've got 26 briefcase girls!"
"Ladies, bitte!"
The top prize on the board, €250,000.
And the twenty-five other ones, going down to a cent.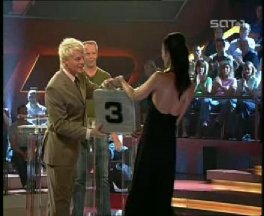 Case three is his choice, we shall see how lucky it is.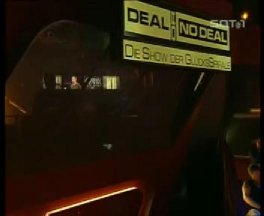 The Banker in his booth.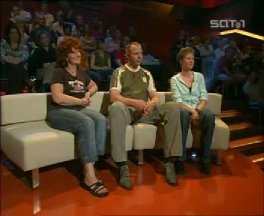 Family and friends.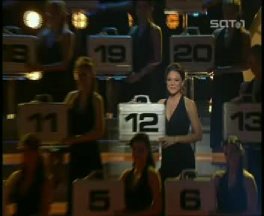 As previously mentioned, the direction is very similar to the US show.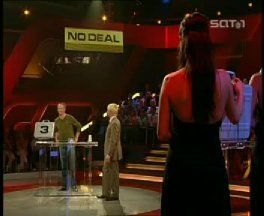 He no deals the first €3,500 offer. Like the US show, if he wants to deal he pushes a big red button.
The game follows the traditional 6-5-4-3-2-1-1-1-1 sequence.
Let's cut to the chase… he no deals this.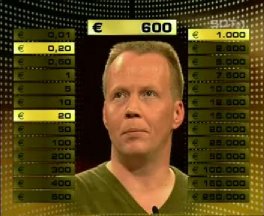 Then hits relentless bad luck. He turns this down and then hits the €20.
He deals at the way over the odds €750…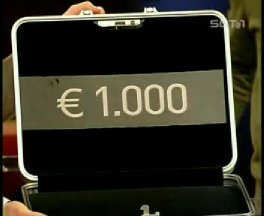 …and amusingly has the €1,000 all along. See you next week!
This article was written in 2006. The following comments were left in the comment box:
Deal!!!
I would say its Die Glücksspirale and not Der Gluckspirale
Ye, the funny funny german grammar