Version reviewed: v1.01
Requires iPad running iOS 3.2 or later (iPhone version also exists)
In theory, an iPad version of Countdown should work brilliantly – if they use touch screens to do all their stuff on the real life Des Chiffres et Des Lettres, making an iDevice version should be easy, right?
You get the option of single player or two player (pass the pad or bluetooth (untested)). If you play single player you get the choice of short game (one letters game, one numbers game, one conundrum – very Countdown Masters) or a long game (which rather than being the length of an actual show amounts to TWO letters games, TWO numbers games and a conundrum). Whilst I accept the short game is a decent pick-up-and-play mode, those looking for a decent slice of Countdown satisfiaction are going to be disappointed.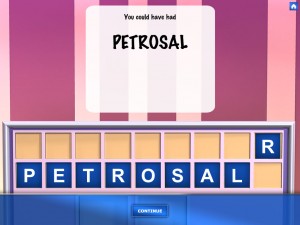 To play, you pick your nine vowels and consonants (the screen keeps zooming in to the piles between letter picks, which is completely unnecessary and annoying) – I tried bending the rules and only selecting nine consonants but correctly it wouldn't let me – letter spicked the clock starts. You type in as many words as you can find within the thirty seconds – you can shuffle the letters, but whilst there's a 'clear' there is no 'delete' which is annoying – at the end of the time you select from your list which word you want to put forward. Fair enough. Then it tells you a word it has come up with, although doesn't give any definitions. I don't know if it uses the Concise OED, it doesn't feel right although I have no evidence to the contrary.
If you're wondering what your opponenet does at this point… well if you're playing single player then there IS no opponent, you're basically playing for a high score. If you're playing pass the pad then your opponent gets their own separate selection to play themselves – very very poor. There have been official and unofficial versions of the game on the PC for the last fifteen years that better thought out multiplayer options than what is given here. 
The numbers game works as you'd expect, pick your six numbers and try and match the number given (although it looks like the number given isn't random and is made so it can be done). The input method for this is rather unweildly, tap on a number card to use it, but then you have to repeatedly tap on the operator symbol until it shows the one you want to use. There's plenty of empty space, would it not have been better to let people have operator buttons to tap singularly? Also the scoring here is borked – at one point I was eight off the target and got three points. I had to recheck the rules of Countdown just to make sure they hadn't changed since last the time I watched it.
The Conundrum works decently well – buzz iin if you've worked it out, you're given four seconds to select the correct next letter in the sequence. But again, you can't play this the correct competitive way – in two player mode, the second player gets their own seperate conundrum.
It's got the set, it's got the music, it's got tiny icons in the corner for going back and going to the front page of the menus, it doesn't not feature Jeff and Rachel. It plays Countdown but not as well as other versions from years ago. It's Countdown, but you'd like it to be a bit better, really.