Version reviewed: v1.0
Requires iPad running iOS 3.2 or later (iPhone/iPod Touch version also avaliable)
Social: Openfeint, Game Center (Brig Bother)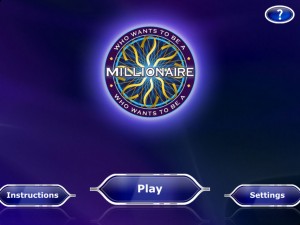 New year, new Millionaire app. The makers have suggested they've taken on board the criticisms for the last one, let's see if we can hold them to their word.
This edition boasts just 500 questions (as opposed to the 1,000 in the last set), although more are avaliable for in-app purchase at 59p for another 250. The app will apparently helpfully alert you when it's repeating questions which is reasonable enough.
This time round you have added options – you can turn the clock off (if you want to act as quizmaster) which is a good idea, although it won't save high scores. Fastest Finger First is an option rather than a right. You can even change the currency your playing for, for whatever reason.
In a slightly baffling move we still have the 15 question tree, questions timed at 15, 30 and 60 seconds for levels one, two and three. Making it to question seven gives you the Switch the Question lifeline which is baffling in terms of timing – on TV it would be question eight because that's where the question after the milestone currently is, here it's just in the middle of nowhere.
Regrettably the questions stacks aren't massively improved since the last edition, after an initial feeling that they had got better it was soon back to putting people in order of height. The difficulty levels are still a bit off – I've encountered several £300 questions that my internal difficulty clock say are much more like £8k/£16ks really. Truly, it is the most difficult Who Wants to be a Millionaire? yet. Again, it feels like I'm getting a few questions on the same broad subject in a row.
The actual interface is much improved on last year – the UK level one music now plays constantly in the background (the music for higher levels does not make an appearance) which is actually a decent bed to play the game to and feels much better than the silence-loud noise-silence we got last time around. Audience and phone-a-friends give percentages (always rounded to the nearest 5%) which are kept on screen, although for whatever reason my phone-a-friends seem to have a preponderance for being 60% certain of B being correct. Downtime between questions is minimal – if you want to see the money tree, you can press the currency icon, otherwise it only shows up after the milestones. It is strange there's no graphic telling you what the question you're currently playing is worth, there's plenty of empty space on the screen.
As an experience, Millionaire 2011 HD plays better than the last one but until they get better question writers it's not a game I can recommend wholeheartedly. But if there's a sale on, there are worse things you can spend your money on.