Version reviewed: v1.1
Requires iOS 3.0 or later
Social: Game Center, Facebook and can post scores to Twitter.
iTunes Preview link (universal app, works on iPod touch, iPhone and iPad)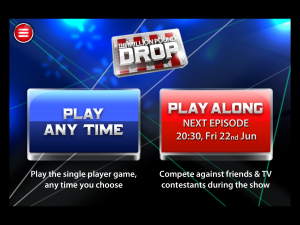 It's The Million Pound Drop. It's an app. It's The Million Pound Drapp! Except you won't have to pay a million pounds, as if you just want to play along with the show it's free, and you have to pay a seperate charge if you want to unlock the "play anytime" game which gives you 750 questions (although most of those are questions used on the show in previous series) and unlockable question packs for a small fee.
And in truth it's a difficult app to fault. It pretty much does everything you expect it to.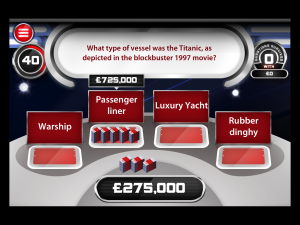 As ever you get your million pounds in bundles of £25k, a question and the possible answers. You place money on a trapdoor by either tapping it (to place one bundle) or ingeniously swiping up (to put money on) or down (to take money off) – it's a really good system. You can stop the clock or wait for the time to run out (you get the proper clock music which is a nice bonus) then the wrong answers are dropped. It could do with a bit more tension building with its drops – if you've plonked it all on a right answer then the wrong answers will drop simultaneously which doesn't seem to happen if you've plonked it all on a wrong answer.
Playing the "play anytime" game you get questions from previous series and 250 questions written for the app by the same question writers who write for the show. You can draw your own opinions on that, although I haven't come across any rubbishy survey questions yet. Each question set has its own set of acheivements if you like that sort of thing. You can also choose to play just one set on its own or for the game to pick from all of them, although you can't as yet pick just from two or three.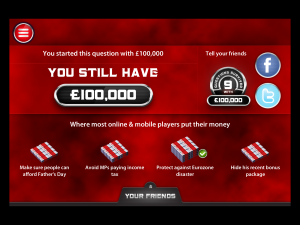 The free play along with the TV game works just as well although playing along on C4 HD suggests the app is about 15 seconds ahead of the television action which is a shame. If the contestants in the studio stop the clock you're given a ten second warning to move your money. If you have friends playing along on the website or through the app logged into Facebook you will get a running total of how you're doing compared to your friends between questions. If you've played the online game on the web you'll know what to expect.
As I've said it's difficult to see what they can add to this to make it better – it crashed a lot when it first came out but they've updated it and it doesn't seem to happen now. To get the most from it you're going to need to pay a little, but if you just fancy playing along with the show then it's here, it's free and it works well.