It's baaaack!
Bother's Bar favourite Wie is De Mol? returns in January, this time taking in the environments of Sri Lanka. Ten Dutch celebrities try to complete physical and mental tasks to earn money for the prize fund, but one of them is a plant designed to sabotage the tasks. To win the money, the other celebs must try and best work out… who is the mole?
Last year saw some great new meta-gameage including the black exemptions, nullifying all help in the end of episode elimination tests. I can't wait to see what they've got cooked up this year. Fingers crossed English subbed eps will be going up Youtube, this site looks like it might be worth keeping an eye on. The series begins on 1st January.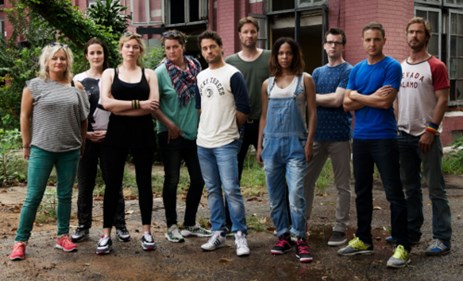 Who are they? From left to right (comments from Friend of the Bar Squared Eyes):
Martine Sandifort – "Martine is a well known and liked comedian, with a range of characters and impressions."
Evlien Bosch – Presenter, "Evelien does a lot of child programs."
Marlijn Weerdenburg – "Marlijn is an actress, who got her big break in Dannii Lowinski last year on SBS."
Margriet van der Linden – "Margriet is a magazine editor, but mostly a hardcore feminist."
Rik van de Westelaken – "Rik is one of the news anchor of the most important 20.00 NED1 bulletin, he was asked before, but wasn't allowed to participate, now he is. Obviously."
Viktor Brand – "Viktor is a host for SBS6, doing all kind of shows, expect the big, entertainment studio shows."
Carolina Dijkhuizen – "Carolina is probably a bit unknown for the audience, but a huge musical star."
Pieter Derks – "Pieter is a young, upcoming comedian."
Arjouad El Miloudi – "Ajouad is a host, a combination of research/investigative factual shows and youth programs. Likeable."
Chris Zegers – "Chris used to be more famous than he currently is, was a soap actor, hosted a couple of shows and did a lot of travel formats."
As ever, we'd love to hear from our international friends, but please remember that this is a UK-based site and we'd ask not to spoil anything in the comments that has yet to be translated (usually a few days after it goes out in the Netherlands). Once it's up, it's fair game. Thanks!
Here are links to where chat about episodes start in the comments so you can elect not to spoil yourself: