This is South Africa's version of Des Chiffres et des Lettres, which we in the UK know as Countdown. It's apparently only the second English language version of the show in the world, but in its most recent series (at time of writing), the players have the option of giving answers in English or Afrikaans (a language heavily influenced by the Dutch).
Here are our titles, consisting of the screen with lots of flashing words and then clearing to reveal this. The numbers feeling sorely under represented, probably.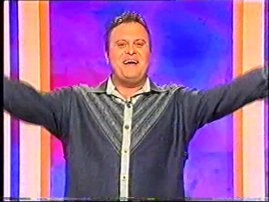 Here's our host, Jeremy Mansfield, who strikes us as being perhaps the most camp host of a Des Chiffres et Des Lettres version we think we've seen.
He reveals to us that before the show, conversation had turned to the subjects of ships and sailing. This will set the sort of theme of conversation for the show.
Here's our leaderboard which will set up the pairings for the semi-finals. A Word or 2 seems to be a weekly show rather than a daily one. Like our version, it appears to be winner stays on.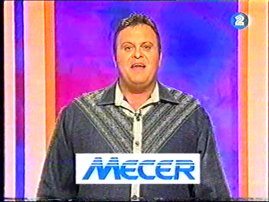 Our host explains the grand prizes. The ultimate winner wins a laptop from Mecer worth 40,000 Rand (about £3,500) whilst the runner up wins a desktop PC worth 10,000 Rand (about £900).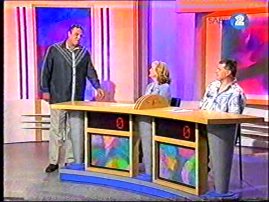 It's time to meet the contestants. Incidentally, Jeremy doesn't have a desk to sit or stand behind, he's on his feet front and centre the entire show. Gill is our returning champion, whilst Gary, a sound technician, is today's challenger.
It's time to meet whatever the South African equivilent of Dictionary Corner is.
First here's William Smith, the show's wikki-wikki-wa-wizard of numbers. Of our three experts, he's the learned academic one.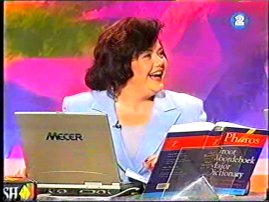 This is our jolly Afrikaans expert Lizz Meiring, normally an actress by trade.
Even though everybody else in the show converses in English, she will respond in Afrikaans.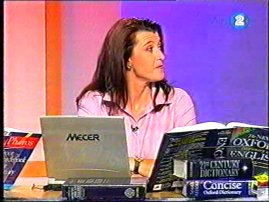 This is Patricia Glyn in the Susie Dent role, broadcaster and opera singer, at this particular moment explaining how she once puke over the side of a ship, and how much she likes a man in uniform. Lovely!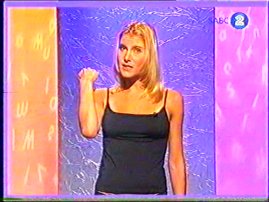 After introducing the experts, we are introduced to Lauren Price for the regular "Sign Time" section. Today she is teaching us how to say "past", "present" and "future" in sign language.
The experts have a go themselves before the conundrum.
As Jeremy waves a ship off, the viewers are given a preview of the conundrum that's going to end the show.
There's a commercial break at this point.
Back from the break, and Jeremy strides over to the board to play the first word game.
Each round is accompanied by a little animation, music in the breakbeat style and a deep voice booming "Words", "Numbers" or "Conundrum". The show has seven rounds: words, words, numbers, words, words, numbers, conundrum.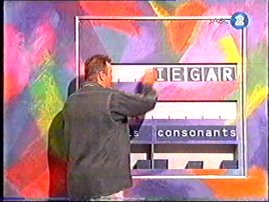 Right, things to notice here. Note that there are three stacks of consonants and vowels. Like in the French version, contestants pick alternately, but the person to begin the round also gets to choose which of the three stacks is used for the round.
We would assume that one stack has a letter distribution that favours English, another stack that favours Afrikaans and a third stack that, well, who knows?
The contestants only refer to stacks one, two or three. Whether they know what is in what stack in advance we don't know.
No large background clock here. We have noticed however that you can time the thirty seconds by watching those background letters sweep back and forth across the screen three times.
Evidently the game's a lot easier when you've got a computer in front of you.
A Word or 2 favours the Oxford English Dictionary.
Jeremy putting up one of the words.
Interestingly, during the word games, both contestants score regardless of whther it's the winning word or not.
During the numbers games, only the closer answer scores. Speaking of which…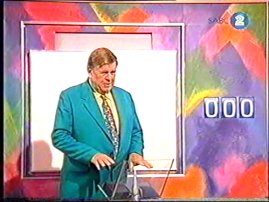 … it's time for William to get up and sort the numbers game out.
Rather than having the cards laid out, the big numbers and small numbers are in piles and shuffled.
This takes place in the same place as the letters game, which suggests that board revolves.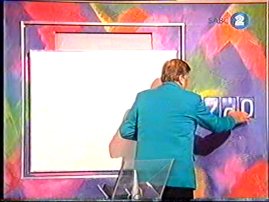 No electronics here, the random number is chosen by three spinning drums. They don't seem to need a lot of push to get them going, either.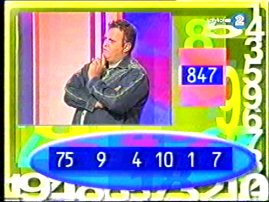 Hmm…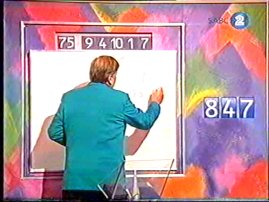 In case you were wondering:
75+9=84
84×10=840
840+7=847
There's another word game before the break, and going into the break we're given another chance to see today's conundrum.
Jeremy uses telepathy to send a clue to the viewers at home. Have you worked it out yet, readers?
After the break are two more word games with a numbers filling.
Blimey, look at that selection of letters. Happily it's noticed that "ahoy" is in there, continuing with the ships theme. William throws in facts every now and then, including one about "Ahoy!" being one of five words Alexander Graham Bell tried out to respond to answering the phone.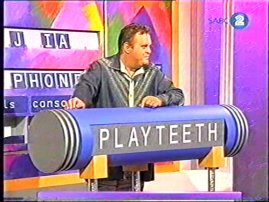 And so we reach the conundrum, wheeled on on castors. As usual the contestants get thirty seconds to solve it for an additional ten points.
But instead of buzzers, a contestant has to yell out "Stop!" when they think they know it.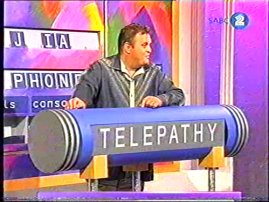 And it's "telepathy"! What a clever pre-break clue that was.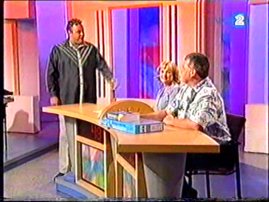 As winner, Gill wins 1,000 Rand (about £90) and the chance to do it all again next week.
Loser Gary has to console himself with a dictionary and a boardgame from the show's sponsors Lesers Kring (Leisure Books).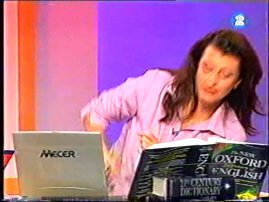 The team say goodbye, Patricia tries to give out her phone number for any men in uniform watching!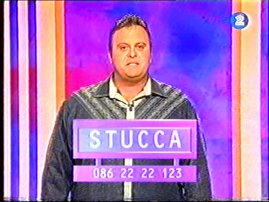 There's even a viewers competition. You find these things in the desert, apparently.
The show works really well, and we very much enjoy it's rather laid back approach and dynamic between the host and the three very different regular panellists.
You may like to visit the show's website.